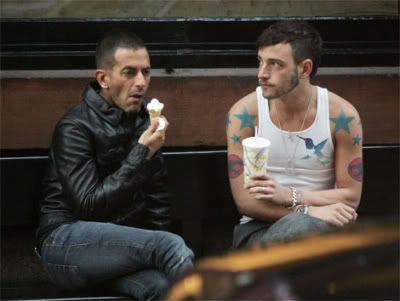 I have become totally wrapped up in the drama that is Marc Jacobs and Jason Preston. They have the stormiest relationship and what can I say? I'm a sucker for both the drams, and the stormy relationship. It's a "Days of Our Gays" one stop shop with those two. Anyway, Page Six reports that the two are in fact back together (for now at least). As early as last week Marc was dating some Brazilian dude. But to be fair, I'm sure he remembers none of it.
"Jacobs is back in the arms of his ex, Jason Preston. They were at Pastis Saturday, looking "very much together, laughing and kissing," said our spy. They were overheard saying they'd missed one another during their separation and dissed Marc's ex, Austin A., saying he "is a drunk loser with a hideous body."
Yeah. Stay tuned. They probably already have broken up, gotten into a fist fight, made love, broken Marc's favorite vase, cried a river of tears, invited their best friends over for a champagne party, bitched about each other all night, broke up again, and gotten back together. Love these two.