Best Dressed: Hillary Duff


And out of left field we have Hillary Duff for the win! She was abolutely glowing. And that dress is so gorgeous, it's a total fashion orgasm. And hello? Pairing those snakeskin Louboutins with that dress? Genius! The whole this is making me totally jealous! She blows everyone way out of the water with this look.
Honorable Mention: Katie Lee Joel


This outfit is young, fun and flirty. The teal really takes away from the severity of the shirt, and the shirt really balances out the avante garde skirt. It's just a fun yet unexpected look.
Worst Dressed: TIE! Kim Raver and Maggie Gyllenhaal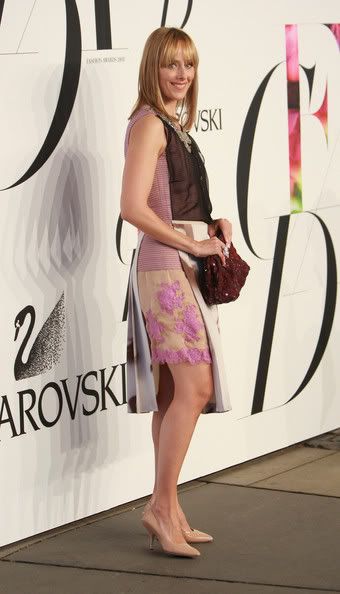 What in the good goddamn is going on here? For real. I'm almost inclined to say Kim's is worse, because at least Maggie probably doesn't give a shit if she looks bad. She'll say it was an artistic expression of her personality. But Kim? It looks like she was lunching with some friends at a casual dining facility when she suddenly realized she had a black tie event she had to be at in 5 minutes which led to her stripping the table cloth off, cutting a hole in the dinner napkin and throwing that shit up on her. It's bad! It's all bad.


Dishonorable Mention: Candace Bushnell


This dress is everything that was wrong with 90's fashion. End of story.
Best Dressed Couple: Marc Jacobs and Victoria Beckham


I hate to admit it, but these two look like two fashionably ferocious hungry lions on the prowl. Literally. These skinny bitches probably haven't eaten in a decade combined. Vickie is totally bringing the dram here though, and I adore that. And she's also kind of smiling! Not enough to chance the risk of a wrinkle, but still! I also love that Marc seems to be nervouly glancing off to the side. He's probably wondering where the hell his assistant's at. He told that bitch not to stray too far. Nothing comes between Marc and his eight ball.


Worst Dressed Couple: Naomi Campbell and Andre Leon Talley


Hammer time, oh oh oh ohhhh oh. I just want to know how ALT can seriously judge others when his look could only be described as Homeless Sikh. Madness!


Source