Best Dressed Woman: Gabrielle Union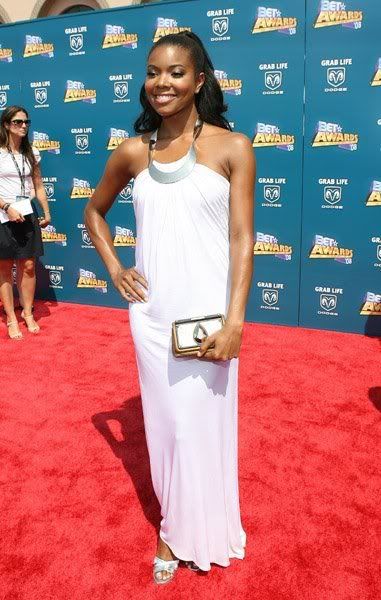 As if there's any contest! If Gabby is there, she's more than likely going to be the best dressed. This woman knows how to turn it out and dress for any occassion. I could ask her to RSVP for a Mexican moon celebration honoring the birth of King Corn and somehow she would manage to come up with the absolute appropriate attire. She's a gorgeous stunning, and flawless creature who can do no wrong.


Best Dressed Man: Ne-Yo


Ne-Yo may have come to the red carpet dressed casually, but when it came to his onstage performance, his ensemble totally floored me. Take note guys, cause THIS is how it's done. This look is so cool, and shows so much more personality and confidence than plain jeans and a tee. It's also a throwback to a time when men really cared about their appearance and walked with a certain swagger. Very Sammy Davis Jr./Bugsy Siegel. LOVE it.


Best Hair and Accessory: Alicia Keys


You don't always have to pile on the accessories to make a big statement. Sometimes subtle is best. These "Love" , "Hate" brass knuckles Alicia Keys is rockin are to die for. They complement her gold hoops perfectly. And her hair is simply perfection. This is a great ensemble and I'm totally jealous.


Worst Dressed: Toccara


Do you know how much it pains me to make Toccara the worst dressed?!? Total eclipse of the heart! I combed through the pictures making sure there was no one, not one person that I fairly and justly thought was more poorly dressed, but sadly there wasn't! Oh cruel world! Why?!? I am sorry but this dress is not doing the fabulous divine goddess that is Toccara justice! It is so ill fitting and hugging her in all the wrong places. The dress is too tight around the hips and right below the chest. Toccara why? Why did you settle for something so mediocre? You are too good for this! A woman of your caliber should be adorned in a dress of diamonds and stiched by angels! I still love you though Toccara, and you are still one of the most gorgeous women on the planet.


Source