Japan held it's 2008 MTV Video Music Awards and let me tell you, the fashion was much, much more interresting than here in the States. For the most part, the Japanese really love to have fun with fashion. They aren't afraid to take risks and express themselves, thinking of clothing as another artistic medium and outlet which they can use to express who they are. And I don't know about you, but I love to see who a person is reflected in their clothing and personal style. I hope you have as much fun checking out the fashions as they did wearing them!
Best Dressed: Megumi


Best dressed of the night goes to Megumi. Putting your own unique spin on something as chic and timeless as the little black dress is a great way of adding your own personality to an outfit without going overboard. This Frida inspired headpiece is young, fun and funky. Love, love, love it.
Honorable Mentions: Ai & Namie Amuro
I really loved that both AI and Namie Amuro had fun with fashion. AI looks like Debbie Gibson from the wrong side of the tracks (in a good way), and Namie's jacket with meticulous corset detail is Hot! (And she's got me totally jonesing for one of those tiney hats). Will they look back at these pics 10 years from now, laugh and ask, "What was I thinking?!?" Probably. But oh well!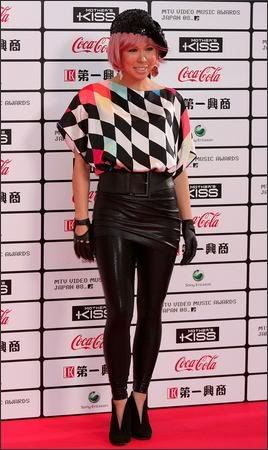 Best Execution of Avante Garde Attire: Hiroko


There is definetely a right way and a wrong way to mix colors together-particularly bold ones. This is right way. And can we please just take a moment to look at her shoes? Louboutins Ariellas in Electric Blue. Where did they come from?!? I mean, other than heaven. I have only seen them in black and magenta. Magnificent.
Worst Dressed: Leah Dizon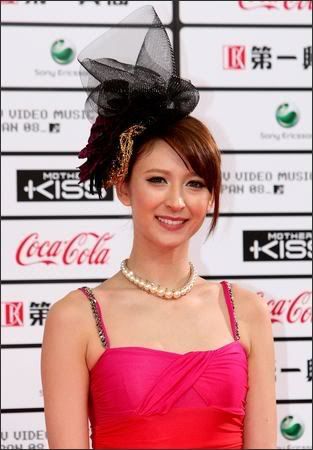 Where do I begin?!? The dress looks like a tacky, off the rack prom castoff that not even the girl no one asked to the dance but deperately wanted to go would wear, the fabric looks cheap and itchy, the gloves (gloves!) are hideous and hello?!? If you are going to wear gloves, don't wear black with that amazing technicolor acid trip! It doesn't match and it's not even in the same fabric family! Satin with taffetta or whatever the fuck that is? Nast! Finally, I am a fan of the Isabella Blow inspired Philip Treacy hats. But this monstroity? Proposterous! Dead bird that committed suicide in it's own nest! This whole look is wrong. Just so wrong.
Dishonorable mentions: Paris Hilton and Seamo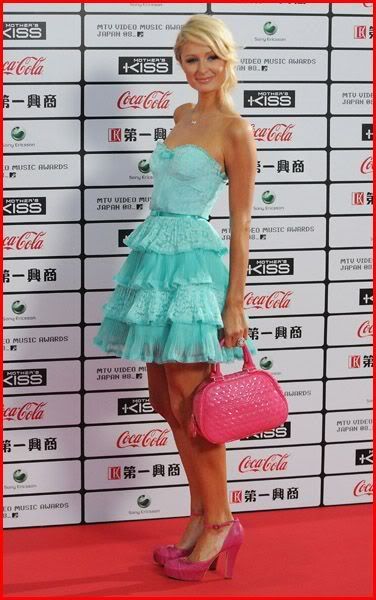 I don't need to tell you why they are dihonorable mentions. No mystery here.
Verbal & Rinko Kikuchi


W-inds & Mariah Carey


Colbie Caillat & Shun Oguri


Funky Monkey Babys & Nelly


Miriya Kato & Flo Rida (and his Harajuku Harem)


Fergie Ferg


Yuna Ito & AAA


Double & Atomi Takaugi


Infinity 16 & Aqua Timez


Source
itle=MTV%20Video%20Music%20Awards%20Japan%202008&pubdate=5/31/2008
>Source