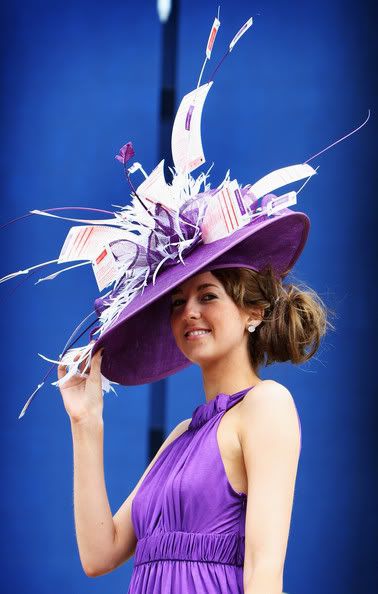 Hell to the Yeahyuh! Break out the margaritas, cause it's Royal Ascot 2008 bitches! And we all know what that means. Britains most rich and famous royals get together to get drunk, talk mad smack, create a bunch of dramz, and wear the craziest hats this side of Philip Treacy! So without further ado, I give to you Royal Ascot Days 1 & 2.
DAY ONE
Zara Phillips getting fresh with Prince Charles-watch your back Camilla!


Princess Beatrice and sister Euginie


Queen E in da Hizzy & Prince Charles and Camilla


Some Crazy Ass Bitches


DAY TWO
Princess Haya Bint Al-Hussein and Mohammed Bin Rashed Al Maktoum aka Mr. Peanut


Camilla and Prince Charles aka Mr. Peanut's Brother


Queen E and Prince Philip & Margaret Thatcher who needs to step her game up cause that hat just ain't cuttin' it.


Victoria Du Vin


Isabella Christensen & Some Random Chick With Crazy Flower Hat


Source
Source