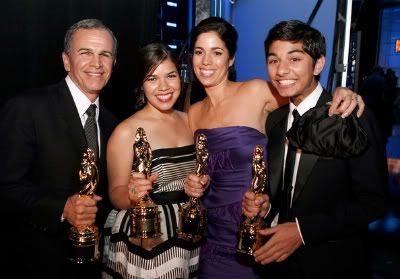 Eva Longoria Parker hosted the 2008 ALMA Awards, which celebrates the best in Latino performances in te entertainment industry. To see the complete list of winners, click here, but for the complete coverage of fashion, look no further! Let's kick things off by taking a look at the night's best and worst dressed, along with all the other fashion choices of the evening.
Best Dressed and Freshest Face: Ana Ortiz


No doubt about it, Ana Ortiz looked AND felt like a winner; and she was! She was easily the beautifulest girl at the ball. The hue was perfect for her, the dress ad movement which she really utelized, and the figure flattering shape hugged her curves just right. You could tell this dress made her feel confident and sexy, which is what it's all about. She looked magnificent.


Most Busted Face: Eva Longoria


Damn! That makeup is harsh and that hive is not doing her any favors. She looks in her late 40s at least. Pill popping, martini chugging, PTA attending, prozac addicted bitter wife from the 50's.
Honorable Mention: Dania Ramirez


Dania really knows how to work the red carpet. I'm not sure if this dress would have looked so regal on anyone else, but she sure makes it look like a million bucks. You betta work, dammit.
Worst Dressed: The Cheetah Girls


They look like they were Bedazzled by a blind gay man in an insane assylum.
America Ferrera


Paula Abdul


Ashley Tisdale & Karina Smirnoff and Mario


Q'orianka Kilcher & Ana Ortiz


Taboo & Lucero


Paula Garces & Daisy Fuentes


Persia White & Jorge Garcia


Mark Indelicato & Oscar Nunez


Julie Gonzalo & Ryan Seacrest


Sofia Vergara & Marisol Nichols


Will.i.am & Eden Espinosa


Judy Reyes & Anjelah N. Johnson


Jessica Alba


Shakira


Roselyn Sanchez and Eric Winter


Eva Longoria and Tony Parker


Source