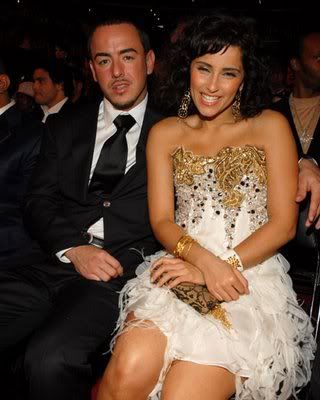 Damn Nelly Furtado can keep a secret. No one even really knew she got a boyfriend, let alone was hitched! The Canadian beauty has revealed in an interview set to air on Entertainment Tonight Canada Friday that she tied the knot with fiancé Demacio "Demo" Castellon over the summer. "We got married July 19," she says. "I love it." You love it so much you told no one? Then again, mad props for not trying to hock her wedding and honeymoon photos. I hate it when celebs do that for some cash-it's so tacky! With the exception of Ellen and Portia, who I think we trying to show conservative middle America that the gay weddings are nothing to be fearful of. So, you know, free pass to them.
Anyway, Nelly, who met Castellon when he engineered "Loose", says she loves married life stating that, "It's a nice phase of my life…I just feel kind of free and relaxed and more in tune with trying not to be so stressed out. I'm trying to enjoy things a little more."
Ugh, can you just imagine how many journalists are going to make a play on "Promiscuous"? I shudder to think.