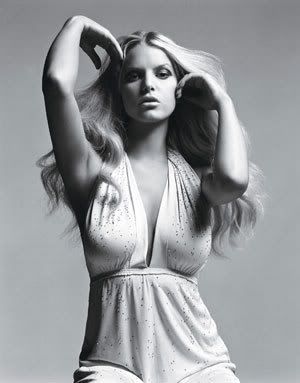 Just days after Scarlett Johansson sold her used snot filled tissue paper on ebay, raking in $5,300 for charity, Jessica Simpson is jumping on the "EW, Gross!" bandwagon by selling her used toilet paper.
Jessica revealed on "Jimmy Kimmel Live" Thursday she has been trying to conserve her toilet paper use by only using one square at a time. She then concluded that selling her toilet paper would both help the environment and make a nice little souvenir for a fan. Because autographed pics are so yesterday.
"I've been blessed with such a great group of fans, and want to give back by offering them a piece of me nobody else has," Simpson said. "Don't worry — it's a number one, not a number two!" she hurriedly reassured.
Bidding on the pee paper has already reached a staggering $4,050, with several days left in the auction. However, unlike ScarJo's nasty snot rag, the pee paper profits will not be going to charity. So basically, Jessica Simpson has been reduced to selling her bodily fluids to make a living, and her fans are pervs who pay thousands for a urine soaked Charmin rag. I think it's safe to say that that old, mysterious Hollywood allure of the 40's and 50's is a thing of the very, very distant past.