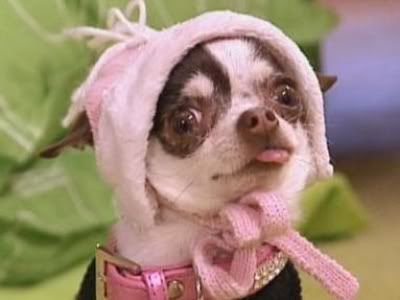 If you do not know who Megan Hauserman is, consider yourself lucky and just go ahead and skip this post all together. But for those of us who do watch trashy reality shows like Rock of Love Charm School and I Love Money, we know Megan as the conceited bitch with the tiny dog whose middle name is trouble. And this time is no different. The reality "star" went to the hospital following an alleged incident that happened at the reunion show taping of Charm School. Megan claims Sharon Osbourne, the show's host, went crazytown during the taping Saturday night. She says Sharon ran across the stage of the show, grabbed Megan by her hair and would not let go. She also alledges that Sharon continued to pull to pull at her hair and scratch her until security eventually separated the two. Megan went to the hospital Sunday afternoon and filed a report with the LAPD on Sunday night. This supposedly comes after Megan insulted Sharon by saying she was only famous for managing a brain dead rock star.
The LAPD says Sharon is a suspect in a minor battery though charges have yet to be filed.
Now I don't usually condone violence, but this chick really does deserve to get her ass beat. She can dish it out all the time, so she really should be prepared to take it. If you ask me I think getting a little slapdown should serve as a lesson that you can't just go around insulting people just for your own amusement. But it won't.
Also, I know it might be difficult to tell the difference, but that picture is not Megan. It's her dog who is much cuter and ions more intelligent.