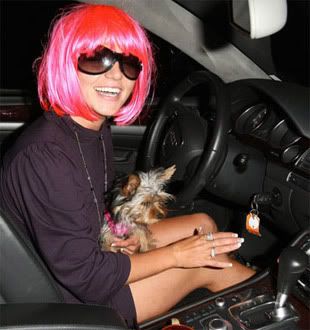 Many unauthorized biographies have come out claiming to be the truth and nothing but about our little Britney Spears. However it seems that now we're going to get the official word from Ms. Spears herself. Rumor has it that the Pop Queen has received a £10million publishing deal for her to spill the beans in a tell all. In fact, most of the outrageous stories are going to come straight from her diaries.
A source says "There have been numerous unofficial biographies printed about Britney, but she's never agreed to pen her own tome - until now. If the deal goes ahead she will write between three and five books throughout the next decade - it's one of the most lucrative book deals in showbiz history. Britney will talk frankly about growing up and how shewent off the rails. It'll be a gripping read."
If this is true, it is going to be gooooood! But how many of you think that if she even tries to mention Adnan's name, he will be all over her shit with some douchey lawsuit and working the talk shows for all he's got? I definetly do.
Also, wouldn't this book make for a great drinking game? One shot when she says "mah", two when she says "Frap" and three when she says "Ya'll". I'm sure we'd all be in the hospital with alcohol poisoning by the third page.