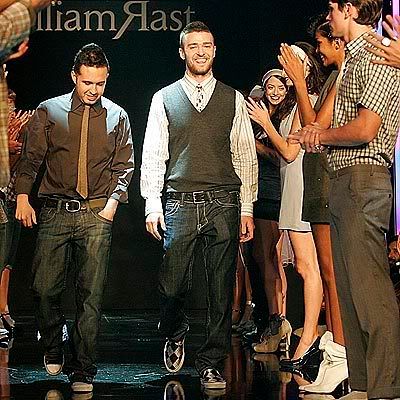 Justin Timberlake's clothing line, William Rast, has been on sale for quite some time, but hasn't really received a legitimately solidified place in the fashion world: until now. Turns out the line will be showing alongside seasoned designers such as Calvin Klein at Bryant Park next month. The show is scheduled for Feb. 16 at 7 p.m., marking the second time William Rast has shown at a major venue. The first being in September of last year at the Roseland Ballroom. And while attendees at that show may have been disappointed by a lack of Timberlake, a spokesperson for the singer insists he will make an appearance.
While Timberlake, like many other singer/actor/reality star/hookers is hoping to branch out into a serious fashion career, many seasoned veterans in the industry are annoyed with the ever growing list of celebrity clothing lines. In fact, many of fashion's biggest names have pulled out of global fashion weeks, opting for more intimate venues to show their lines. Vera Wang, Betsy Johnson, and Marc Valvo are just some of the big names who will be moving their designs to a smaller tent.
But what do you think? Do you believe celeb designers such as Timberlake are making a mockery of the art of fashion? Or do you think they have just as much of a right as seasoned vets to get booked for fashion week? Please, do tell.