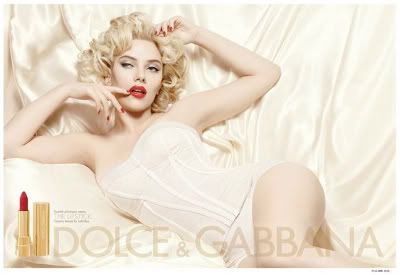 Hot fierceness overload! The most beautiful woman in the world and the first ever Slacker Chic of the Year ScarJo has just been announced as the first spokesmodel for the new D&G Makeup line that will launch this spring. "Scarlett is sure of herself." says Stefano Gabbana. "She's a beautiful girl, but she's really easygoing. She is very Dolce & Gabbana."
Stefano also says the transition to makeup was an easy choice, because they see it as an extension of a woman's wardrobe. "We see makeup as another thing for women, like a dress. We worked on the makeup line like we work on a clothing collection — you can change makeup like you can change your clothes, depending on your mood. We wanted to create makeup with a scent. Domenico and I remember when we were children and opened our mother's handbags — the scent of her lipstick trailed out. I observed that when women open makeup, they smell it first."
Well, if anyone is the perfect person to represent a glamorously complete package, it's definetly Ms. Johansson. The ad looks gorgeous, and I can't wait to see more!