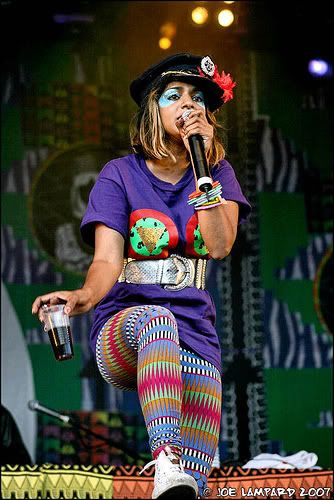 M.I.A. is no effing joke. Just days after giving birth to a baby boy, she's already getting right down to businass. Yesterday on her MySpace blog, the singer officially announced the birth and talked about making plans for a tour. Of course like any good mother she is consulting her child, giving him an actively participating role in the city lineup and has him helping her make mix tapes. I mean, he is already like, 3 days old. It's about time he got his head in the game and stopped being so lazy. Anyway, here's what M.I.A. had to say (sorry about CAPS I suppose that's just how she rolls):
HAPPY VALENTINES!
SUNDAY NITE I CA M E HOME FROM THE GRAMMY'S STILL IN THE MOOD TO PARTY , I COUDA EASILY GONE OUT BUT I WENT HOME INSEAD , LUCKY I DID!! COZ MY EARLY STAGE LABOUR KICKED IN AROUND 2 AM .
http://www.youtube.com/watch?v=Vfndz8pW9WY
MY BABY WAS BORN WEDNESDAY , HE IS HEALTHY , FINE , BEAUTIFUL AND THE MOST AMZING THING EVER ON THIS PLANET, OF COURSE IM HIS MUM!!!
ME AND BABY ARE PUTTING OUR TOUR DATES FOR 2010 TOGETHERAND MAKING MIX TAPESAND FIGURING OUT A WAY TO BREAK OUT OF THE HOSPITAL !
HOPEFULLY THE WORLD IS BEEN TICKING ALONG AND I AINT MISSED MUCH!
C U SOON ,
AND MY BABY BOY SAYZ HIIIIIIIIIIIIIIIIIIIIIIIIIIIIIIIIIIIIIIIIIIIIIIIIIIIIIIIIIIII!!!!!!!!!!!!!!!!!!!!!!!!!!!!!!!!!!!!!!!!!
Believe me when I say you must check out that Youtube link. I don't want to spoil it for you by ruining the suprise, but trust me when I say that it is worth checking out.
And you know, I really can't believe how quickly girlfriend is blowing up. It seems like just yesterday people would hop into my car while I was playing M.I.A. and ask "What the hell is this?!?" and now everyone and their momma is her biggest fan. Fame is a whirlwind.