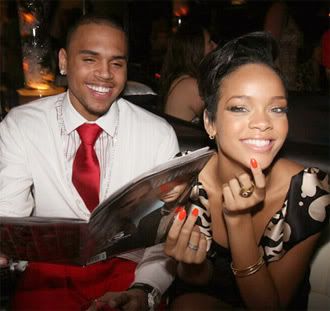 According to MediaTakeOut.com, Rihanna does not want boyfriend Chris Brown to face criminal charges for committing domestic assault against her. A source extremely close to the singer stated that she is no longer assisting investigators in their criminal case against Chris Brown. However, that's more than likely not going to make the charges disappear. Police claim that at the scene of the incident, Rihanna identified Chris Brown as the man who assaulted her. Additionally, police have physical evidence.
Law enforcement sources say police took pictures of Rihanna's injuries and they were "horrific." The photos allegedly show major contusions on both sides of the singer's face as well as is serious swelling and bruising. Her lip is split and her nose bloody. Additionally there are bite marks on one of her arms and on several fingers. The sources say Rihanna claims Brown struck her with his fists and that's what did the damage. There was no object used in the alleged attack.
Rihanna refused treatment at the scene, but before she left cops took photos. Supposedly the photos alone are "devastating proof of abuse."
They also noted that it was not Rihanna who made the 911 call, but rather someone in the area heard her screams and called.
On the flip side, the New York Daily News is reporting things differently. They say that Rihanna is providing "ongoing" cooperation with detectives, who are building a domestic violence case against Brown, a police source told the Los Angeles Times.
I guess only time will tell.