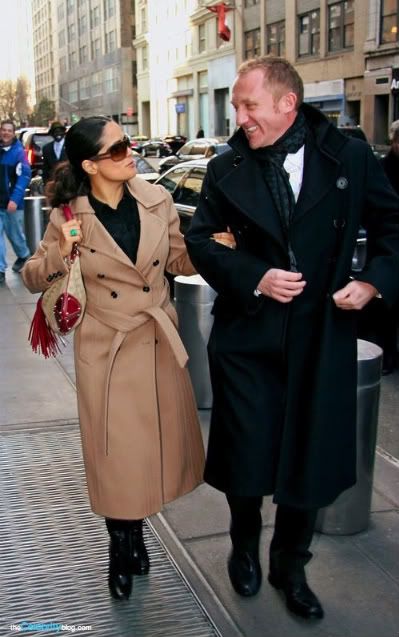 I can honestly say I am surprised to announce that Salma Hayek has tied the knot with her rich ass baby daddy Francois-Henri Pinault. The two apparently said their vows on Valentine's Day (how original) at the City Hall of the Sixth Arrondissement in Paris. Yes, the fucking City Hall. They really went all out on this one. Salma and Francois have had their share of ups and downs. The couple originally got engaged in March of 2007, however they ended up calling off the wedding in July of last year. In September they decided to give love another go, and evidentally they thought they could make it work.
No word yet on whether or not Salma had to sign a prenup, but I'm guessing she didn't. When they divorce (and trust me, I'm sure they will), Salma will probably be looking at a ginormous pay day. Francois, 46, is worth trillions as the chief executive of the French luxury and retail group PPR SA, which owns high-end labels such as Gucci, Yves Saint Laurent, Balenciaga and Puma. So she'll wind up forever loathing Valentine's Day, but will have a giant pile of money to cry about it on.
Anyway, congrats to the happy(ish) couple!