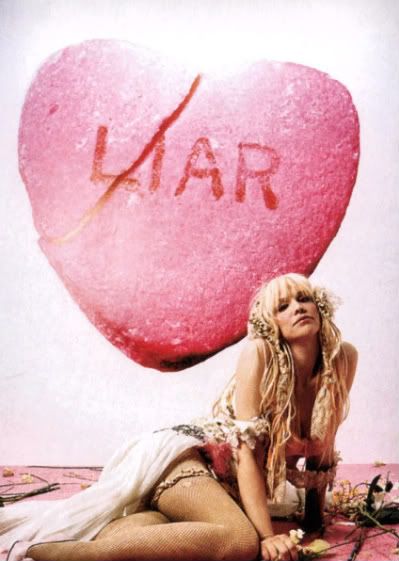 Courtney Love's tendacy to talk has gotten her into trouble yet again. This time the rocker is being sued for, among other things, slander, for talking crap about a designer she hired. In papers filed Thursday in Los Angeles Superior Court, Dawn Simorangkir, who runs a sportswear line called Boudoir Queen, says Love asked her to create a wardrobe for her, but then got angry when the designer sent her an invoice. CLove was so offended that she took to her twitter and myspace to verbally assault the young designer. Simorangkir alleges that CLove called her a racist, cocaine-pushing hooker and even threatened her life.
Love then hatched a "plot to destroy Simorangkir," writing "malicious and false statements" on the Internet, claiming the designer "sold drugs, is a drug addict, has a history of selling cocaine, has a history of assault and battery, has a record of prostitution, has committed grand theft . . . was deemed an unfit parent, lost custody of her child, is a racist and homophobe . . . [and] is a danger to society," the suit states.
In addition, "Love publicly made the menacing and disturbing statement that Simorangkir will be 'hunted til your [sic] dead,' " according to the suit. "Whether caused by a drug-induced psychosis, a warped understanding of reality, or the belief that her money and fame allow her to disregard the law (word up_, Love has embarked on what is nothing short of an obsessive and delusional crusade to terrorize," the suit claims.
It also states that CLove refer to Simorangkir as a "vile horrible lying bitch" and "the nastiest lying person I have ever known . . . [a] total scumbag."
The lawsuit charges Love with libel, invasion of privacy, intentional infliction of distress and breach of contract and asks for unspecified money damages.
Um hello? You are talkng about CLove! She's the girl that will smoke all your cigarrettes, sleep with your boyfriend, steal your clothes, and grafitti the inside f your house with lipstick. She also wants to be the girl with the most cake, but that's another story entirely.