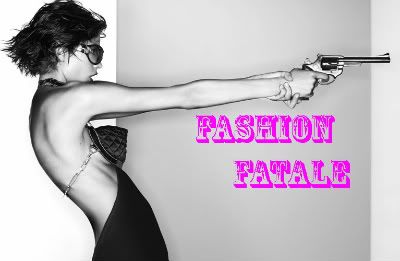 I have been thinking for a while about starting a new segment on Slacker Chic, highlighting a brand or artist who really reflects what fashion is about: Having fun, setting no boundaries, and being utterly unafraid to take chances. The minute I decided to add the segment, I knew there was only one brand that would not only represent all those things, but who would be perfect to kick things off with. I'm talking of course about Mandate of Heaven.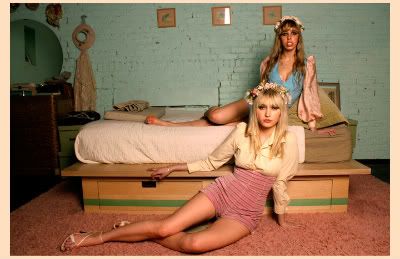 You know, I was sitting around trying to think of one word to describe Mandate of Heaven's line, but truth be told, I just can't. This brand is so much more than a one word. In fact, Mandate of Heaven's collections reflect everything women and men should be: complex, mysterious, whimsical, original, sexy, and maybe (alright, definitely) a little bit of trouble. Perhaps what I like best about Mandate though is that while their clothes are beautiful and different, they're not costumey, meaning that you'll get noticed for all the right reasons. Furthermore their attention to detail is outstanding, ensuring any woman or man that slips into their frocks are guaranteed to feel special. And if you don't believe me, just ask Katy Perry. The singer is a big fan of the brand, and can often be seen on the stage or red carpet rocking their clothing. (Or on the cover of Rolling Stone wearing a one of a kind piece, thank you very much!)
Carissa Ackerman, the designer for Mandate of Heaven was sweet enough to answer a few questions about her take on fashion, inspiration, and the one piece of clothing she'd be sad without. Here's the interview! Enjoy and show love!
Slacker Chic: "Mandate of Heaven" is an interesting name. Where does it come from?
Mandate of Heaven: My friend Nick Olsen and I started the line our freshman year of college. He was taking a class at Columbia on Chinese history, and we became kind of obsessed with the term. The words sound so pretty together, and the grandiosity amused us. It's messed up in kind of an awesome way. The funny thing about a "Mandate of Heaven" is that anyone can claim one, so we thought we might as well.
SC: What motivated you to decide to use recycled and/or vintage materials for your designs?
MOH: Nick and I had been thrift shopping together since our freshman year of high school, and it was kind of a natural progression. We loved messing around with old things, and there were so many amazing fabric possibilities available. We didn't have any money to invest in our line, so recycling stuff allowed us to use fabrics that we wouldn't have been able to afford new. On top of all that, there were already so many clothes in the world- we thought it might be a better idea for us to work with what's already here at first.
SC: How would you describe the "Mandate of Heaven" type of girl?
MOH: Hmmm... I don't want to exclude anyone, because I'd like my clothes to belong to anyone who loves them. However, I think a Mandate girl (or boy- we make stuff for guys as well) is usually intelligent and self confident, has a good sense of humor, and takes care of her appearance but doesn't take it too seriously. My pieces look great on a variety of body types, but they can be difficult for people who are insecure or overly concerned with the opinions of others. My customer has to have the self-assurance and humility to get over the fact that some people just don't get it. She is usually someone who dresses to please herself, not to fit in. And of course, she has to be comfortable with the fact that, when you look awesome, people may stare a little.
SC: Your spring 2009 collection was clearly inspired by Alice in Wonderland and Through the Looking Glass. What was the inspiration for the Fall '09 collection?
MOH: Economic troubles. I'm amused by the very literal, so I structured my fall 09 collection around a 30s Depression + 90s Recession theme. I thought it was appropriate, and I kind of wanted to remind people that we've been through all this stuff before. There's lots of flannel, bias cuts, babydoll dresses, tap shorts, cardigans, etc.... kind of grunge does 30s, which grunge actually already did within the whole Kinderwhore thing. I grew up watching 30s movies with my mom- in the early 90s- so it was kind of a celebration of original influences for me. Also, I tried to make stuff that could be layered together as much as possible, which is both very early 90s and very recession friendly.
SC: What other designers/musicians/fashionistas inspire you?
MOH: My mom has pretty much perfect taste, and has been a huge inspiration for as long as I can remember. I have to say she's my number one aesthetic influence.
I am inspired by the work of many many other designers. The first names that come to mind are Claire McCardell, Ralph Lauren, Adrian, Marc Jacobs, Vivienne Westwood, Yves Saint Laurent and Betsey Johnson. However, that's really just the tip of the iceberg... I love the work of so many people.
Music is awesome. My super talented friend Paige Wood has beautiful style... and of course the aforementioned Kinderwhore ladies, and a million others. 20s and 30s jazz singers, 40s swing kids, 50s rockabillies, 60s and 70s mods, hippies and rock stars, 80s punks and new wavers, 90s alternakids- I love it all.
I respect and try to learn from anyone who is intelligent, creative and hard working. I am lucky enough to have an amazing group of super talented friends and customers, and they are a constant source of current inspiration.
SC: If you could choose anyone to be the spokesperson for your brand, who would it be and why?
MOH: Luckily I already have a whole crop of ideal spokespeople... my customers are awesome.
SC: Who would you love to give a head to toe makeover to?
MOH: I don't like to knock other people's style.... I prefer to dress people who are into what I'm doing from the start. I've been really into Christina Ricci since I was a little kid, and would love to see her in my stuff. Also, Kat Bjelland from Babes in Toyland. However, they both have awesome style to begin with. I'd also be psyched to see a little Mandate on Hermoine from Harry Potter, and it would be amazing if Elijah Wood became a Mandate Boy.
SC: What is the #1 must have for spring?
MOH: Haha Mandate of Heaven anything ..... but I'd be specifically bummed if I didn't have one of our camp playsuits this season. They're made of recycled cotton shirting fabric and are super comfortable and versatile.
SC: Which fashion trend really makes you cringe?
MOH: I don't like to rule out any one thing, because I think almost any design element is workable if you know how to use it. However, I'm getting a little tired of the super harsh neon 80s thing. It can be awesome in the right context, but it's being rather abused lately.
It sucks when anything becomes too trendy. People should try to mix it up as much as possible- it's much more interesting that way.
SC: If you weren't a fashion designer, what do you think you would be doing?
MOH: I'd probably be an illustrator and/or rock climbing bum. Or possibly a defense lawyer.
You can check out Mandate of Heaven's website to see their fall 2009 collection as well as other clothes from their previous collections. There you can shop online or get info on their store locations. And for more looks including those featuring upcoming singing senation Paige Wood on their myspace!
A Closer Look at their Work:
Katy Perry and Avril Lavigne Say Mandate is A-Ok!












A Sneak Peak at the New Fall 2009 Collection:













Through the Looking Glass: Spring 2009













American Dreamers II: Fall 2008













American Dreamers: Spring 2008









Until Next Time, Stay Fatally Fashionable...