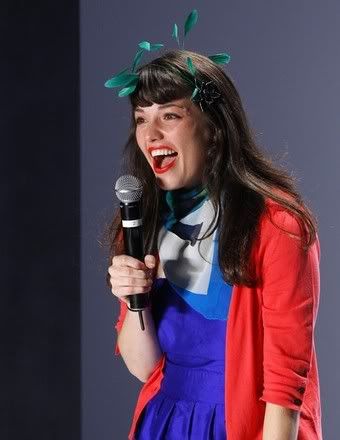 Project Runway season 5 contestant Kenley Collins, the 26 year old pin-up wanna be known for bad talking Tim Gunn, was arrested in her Brooklyn home yesterday for being a crazy bitch. Well, technically it was assault, but basically my terminology sums it up better. The designer pulled a Left-Eye on her ex, 26 year old Zak Penley by beating his ass with among other things, a laptop, apples, water and a cat. Yes, a living breathing kitty litter using cat. According to law enforcement sources, Kenley woke up her beloved Penley at 7 am by throwing her cat at his face.
It's unclear what started the fight, but according to legal papers Kenley told her ex, "You're lucky ... it could've been a lot worse." Yeah, she could have burned their shit to the ground. Although I'm sure she'll work her way up to that eventually. Neighbors say they often hear the couple fighting. "Lately there has been a lot of yelling," neighbor Ken Edge, 31, said. "I can hear Kenley much louder than I can hear Zak. When she speaks, she yells. Since she moved in around September there have been a lot of noise problems." Yeah well I bet those noise problems don't seem like a big deal now, do they?
In all Kenley was charged with six crimes -- including 2nd degree assault, 3rd degree assault and criminal possession of a weapon in the 4th degree. No word on when she is set to be released from jail. But I hope it's never. Not because of the crimes she committed, but because she's so damn annoying that she should be completely removed from society. And you know, maybe having her in there will make her cellmates think twice about committing any more crimes. I mean, if I were them having to spend my days locked up in a little room with a whiny, bitchy, self righteous pussy thrower, it would be a lesson learned.