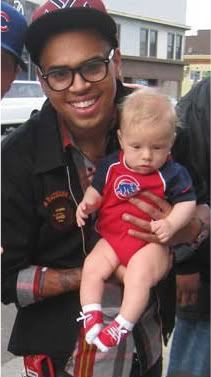 If there is one thing I hate, it's baby holders. Am I supposed to instantly forgive all your transgressions because you have a tiny, helpless child in your hands? Do you think holding a baby makes you Mother effing Theresea? Or is Chris Brown just trying to show us that although he may beat women, he does not beat babies? In public at least.
And please tell me what woman allowed this lady toucher to put his grubby mitts on her innocent babay. Unless that kid is Damien and has tried tushing her ass down the stairs there is no excuse! Baby holders. Psht. I don't know why people think that holding babies is a brilliant PR move. It's like wow, look at you. You're capable of holding something that weighs about ten pounds. Congratulations. For your next trick are you going to hold two gallons of milk above your head?
I think I speak for everyone (here at least) when I say bitch, please. Put the baby down before someone gets hurt. And I don't mean the baby, I mean Chick Beater. Something tells me that baby has a mean left hook. And by the look on his face (all hope lost!) he just might use it.