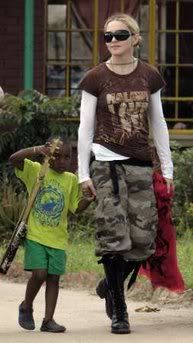 Madonna was sadly denied the opportunity to adopt a second child from Malawi. After coming under scrutiny by rights groups for being given "special treatment", a judge denied Madge's plea to adopt a 4 year old girl named Mercy James. During her adoption of David Banda, officials overlooked the law that states adoptive parents must be legal residents of Malawi. This time it seems, they will make no such exception. The ruling said: "Put simply courts do make law by the process of precedence and Miss Madonna may not be the only international person interested in adopting the so-called poor children of Malawi. By removing the very safeguard that is supposed to protect our children the courts by their pronouncements could actively facilitate trafficking of children by some unscrupulous individuals who would take advantage of the weakness of the law of the land."
Can you even imagine? Wealthy people coming to adopt poor oprhans that are dying from starvation and living in unsanitary conditions without parents. The nerve! Those kids should definitely wait for someone from their own country to adopt them. Especially seeing as how the Malawian market is just flooded with well off families dying to take in 4 year old children. God forbid that poor child be forced to get the best medical care in the world, live in a mansion, have clean clothes, use a working toilet and get the proper nutrients one needs to survive. How dare that Madonna be so selfish!
Although she has immediately filed an appeal, there is no word on whether or not the court will reverse it's decision. One women who thinks they should is Malawi's child welfare minister had endorsed Madonna's adoption application. "We have close to 2 million orphans in Malawi who need help," Women and Child Welfare Development Minister Anna Kachikho told The Associated Press. "We can't look after all of them as a country. If people like Madonna adopt even one such orphan, it's one mouth less we have to feed." I don't know about you, but that sounds like a damn convincing argument to me.