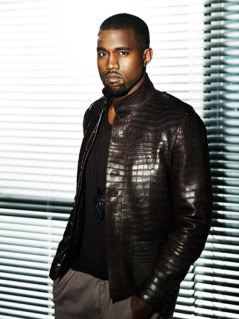 The latest ads for Louis Vuitton staring Kanye West, aka the Louis Vuitton Don aka Unofficial Goodwill Ambassador for the Gays have finally been released. Surprisingly, the snaps are pretty basic. I sort of figured based on both LV and Kanye's affinity for Takashi Murakami that the artist would have pitched in for the collaberation. But no such luck. Instead there is a guest appearance by Girl on Film and offspring of Max Headroom, Amber Rose. If you ask me, this campaign should have been all about her and her beauty. She is a magnificent, ethereal creature and deserves to be worshipped and adored. Actually, when I think about it, Louis Vuitton isn't quite A-listy enough for Girl on Film. Does anyone know if Jesus has a spokesperson? Or Life? She should really be doing something bigtime like that.
As for Kanye's own clothing venture, word on the street is his new brand, Past Tell, should be dropping any day now. The only thing delaying the launch is Kanye who, because of his perfectionist nature, has insisted that his clothes be flawless. In an effort to speed up the process Kanye cleared his schedule for an entire five months, starting in February, to work only on clothing design, including the sneakers he created for LV.
Personally I'm eager to see what this cat comes up with. He is a serious, honest lover of fashion as an artform, and I can actually respect his longing to break into the design world. In fact, he makes the very, very short list of slebs who have a right to put their name on a fashion brand. Him and Gwen Stefani are in an extremely elite club. They have that all encompassing, burning desire for fash, and I can respect that. Now if only Amber Rose would get into the design game, the world would be complete.