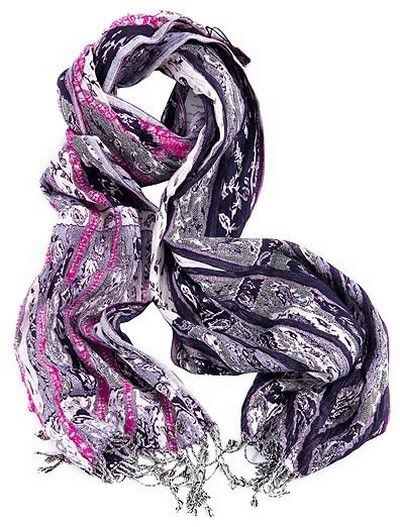 Hello fashion darlings! For many of you, there's only one thing you love more than fashion, and that's a great deal. And what can be a better deal than snagging a great accessory for free? Slacker Chic is offering you a chance to win an amazing Tolani pink mist scarf simply by entering our Tolani Scarf Give Away Contest! This beautiful hand woven scarf, which retails for $85 is the perfect accessory to transition your wardrobe from winter to spring. What's particularly great about this scarf is that it instantly brightens up any outfit. Toss it on with a white tee, jeans and some gladiator flats, or use it to instantly mix up a solid brown or gray business suit. It's versatility makes it the perfect transitional piece to add to any wardrobe. And thanks to the awesome people at chickdowntown.com who donated this scarf, it can be yours for free! In addition they offer various other beautiful Tolani scarves on their website in colors such as black and butterscotch as well as one in taupe, brown, grey and brick. Also, they have a new designer called Siwy Jeans, founded by Michelle Siwy, who is really hot right now. You should definitely check it out!
Although this contest is open to only those readers who reside in the U.S., anyone else can feel free to enter! Simply leave a comment below and you will automatically be entered into the drawing. And men, while this may not exactly be your cup of tea, I highly encourage you to enter to win this as a gift for the lady in your life! Women love suprises (good ones at least), and would think finding this little gem in a cute gift bag to be all shades of thoughtful. The contest will run for two weeks (until the 20th) after which a winner will be randomly chosen.
So what are you waiting for? If I were you, I would have entered minutes ago. This scarf is hot and to whomever wins it, I'm totally jealous.