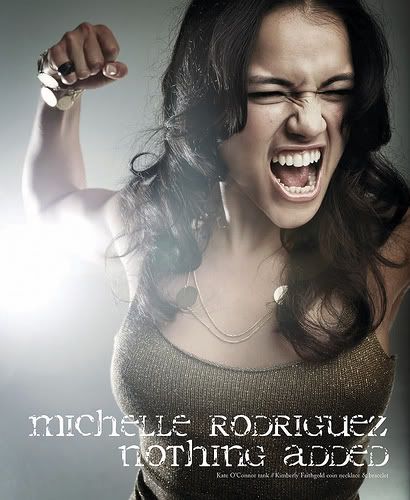 You might want to grab a paper bag and sit down slowly, for I have some truely shocking news. Michelle Rodriguez can be a crazy bitch. Yes, I know. This information most likely flips your world upside down, causing you to revalute anything and everything.
According to sources the Fast and the Furious star went bananas at a bachelorette party in the Dominican Republic for her best friend and manager Giancarlo Chersich. Page Six reports:
"At the welcome dinner at the Casa de Campo Resort in the Dominican Republic, Rodriguez pushed fully clothed guests into the pool. The next night, she broke up the bachelorette party yelling that the stripper was "fat and had a small [bleep]."
Rodriguez was ticked off when the dancer asked for a volunteer at the beginning of his routine and then made the willing babe kneel down. "That's bullshit", the sexy star yelled. "He should be kneeling for her; this is a bachelorette party."
As the stripper began gyrating and pushing his crotch into the bride-to-be's face, Rodriguez yelled, "This is the kind of thing that brings out the bisexual in me." She left in a huff.
On the wedding day, Rodriguez made an angelic bridesmaid in her lilac chiffon-and-silk, empire-waist gown — but that lasted only as long as the church ceremony. The star went to the reception sporting skinny jeans and a tank top and danced till the wee hours with men and women alike."
This chick is crazy and I love it. Honestly everyone knows she has a bit of a temper and is going to damn well tell you exactly what she's thinking. She's filterless and doesn't really give a good goddamn what anything thinks of her. Which is why I kind of love her. Besides, the way she whispered "I smell....skkkkaaannnnnnk!" in the original Fast & Furious was what legends are made of. People may give her a lot of flack, but when it boils down to it she seems like a real, down to Earth chick, and one of the only ladies in Hollywood I would love to befriend.