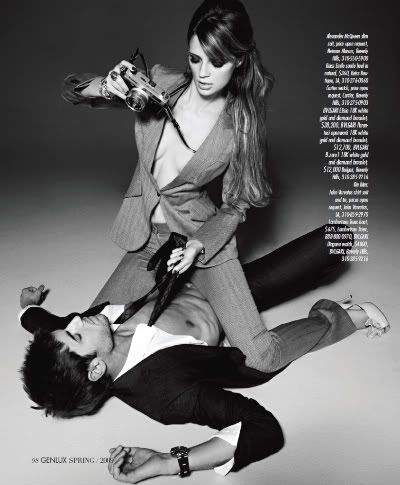 I really, truely, from my core hate to admit this, but Mischa Barton looks pretty flawless in the latest issue of Genlux Magazine. Even though this chick can't act her way out of a room with no walls and is about as interresting as a wet cotton ball, even I must admit she takes a good picture. In fact, so long as she's just standing there with nothing coming out of her giant, filter-free yapper talking about how amazing and talented and beautiful she is, she's not half bad. Almost tolerable. Almost.
Also I don't mean to interrupt the random act of niceness, but what exactly is Mischa Barton promoting? Herself? Just getting her face out there? Letting her three fans know she's still alive? She's like our generation's Shannen Doherty. Except without the rap sheet. Oh wait! She does have a rap sheet. At least she knows where her career is headed. Don't worry Mischa, you'll get work eventually. Like when they remake the OC in another 15 years. I know
that's mean. What can I say? I'm sort of a bitch. But don't even tell me you weren't thinking the exact same thing.