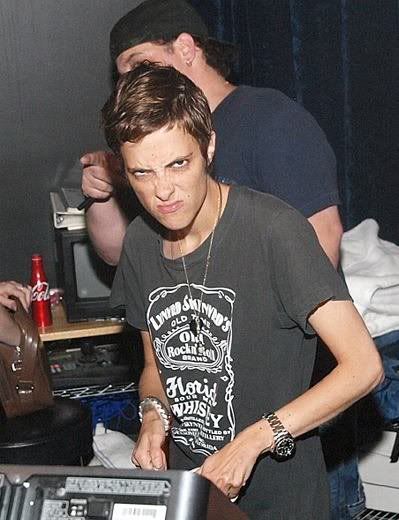 Samantha Ronson's supposedly already off the market after breaking up with Lindsay Lohan only about a week ago. According to a spy at the Chateau Marmont, Ronson was "clearly with another woman -- somewhat of a Lindsay look-alike, but with very dark hair," at a show she was DJing. "They sure looked very cozy, if you know what I mean," said the hotel source who was at the party.(no I do not know what you mean. Please explain that obviously crypted message...) Another friend of Ronsons says that an unknown chick they're calling Cindy was seen coming out of Ronson's Los Angeles home on Sunday.
As for Lindsay who is said to be in shreds over the split, she's currently being comforted by her leech of a mother, Dina Lohan, who suddenly has popped up in Los Angeles after being mostly absent from the LiLo scene in recent months. "She's back to (collect her check) straighten out Lindsay ... and hopes to get her back into rehab, or at least some kind of counseling," said a former Lohan assistant.
A source told The New York Post Thursday: "Lindsay needs to get psychiatric help. Her friends are really sad for her, but she's out of control, and now she's all alone." This comes amidst tons of report that the addict actress has been spotted hanging out with her old friend booze and crying nonstop.
You know, I feel sort of bad for Lindsay. Battling addiction is a really rough thing, but combined with losing the one person you thought had your back no matter what? That's rough. Hopefully this doesn't cause her to leap face first off that wagon and revert back to her wild, troublesome party ways. In the meantime, at least we get to see a little less of Grouchy McGrumpface. Chick looks like damn Mojo Joj from the Powerpuff Girls with her snarky little snare like someone just stole all the chain wallets, Birkenstocks and Indigo Girls cd from her home. Grouchy!