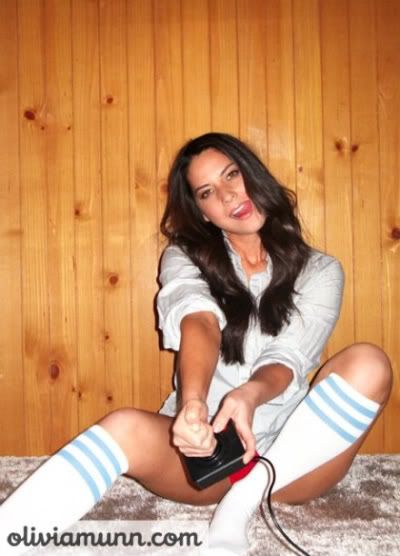 If you are a gamer like me, you probably already know who Olivia Munn is. However, just in case you do not spend your free time playing Call of Duty 4 online or beating F.E.A.R. for the 15th time, you may not have ever heard of this brunette babe before. Olivia is currently the co-host of "Attack of the Show!" which airs on the most awesome television station in all the universe, G4. She also has a huuuuuge cult following, mostly consisting of geeks, gamers, and sci-fi lovers alike (myself included). However while Olivia is no doubt beautiful, what makes her so adored is her relatablity and approachable nature. This chick is always willing to let her hair down, let loose, and just have a good time.
Now that you know why the guys like her, I'd thought I'd share from a woman's perspective why Olivia Munn is so dope. First off, she's a girl after my own heart. She fights that whole stereotypical "you have to look like a guy to play like one" type of mentality. While her hair may be silky and her clothes sexy, she will slaughter your ass in Tekken, ride the waves while you wipe out on a board, and fix your computer before you even get off hold with the Geek Squad. Also, she loves costumes! Whether she's dressing as Nariko from Heavenly Sword, Chun Li from Street Fighter, or Princess Leia, she has a closet full of costumes that rivals even mine. And that is pretty impressive.
Yep, Olivia Munn is gorgeous, smart and totally hilarious. I'm psyched to have her not only represent me as a fellow guy's girl, but to rep this week's Slacker Chic of the Week.