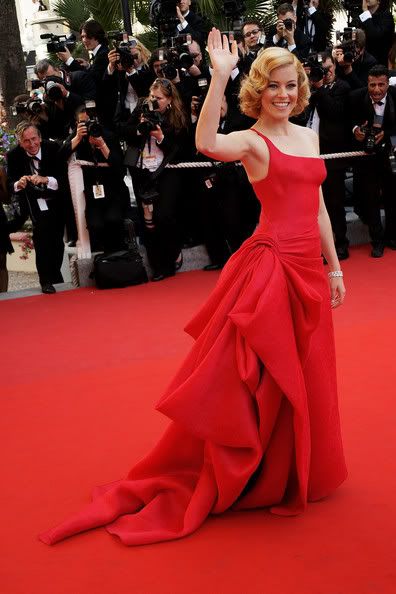 The Cannes Film Festival kicked off bright and squirrely yesterday with slebs from all corners of the globe meeting and greeting and bonding over pretentious films we will all see in order to fulfill our smart movie obligations for the year. (Even though you really just want to curl up with a bowl of popcorn and watch "Pineapple Express" for the twelth time) Now I'm not going to lie-some of these bitches look straight up busted. Literally. Just look at Cheng Sicheng:


Just tell me his ass does not look like an extra from "Let's Go to Prison". Or MSNBC's "Lockup". Does anyone else watch that show? Almost everyone I know is obsessed with it. But I digress.
While Cheng might have hit a sour note for orange on orange, Jovanka Sopalovic was looking like a total sex kitten in her fire engine red ensemble that resembled Ms. Bellucci's seductress costumes for The Matrix:


She earns herself a big gold star and a giant bellowing "You betta werk, bitch!" She looks fantastic. Sadly the same cannot be said for Barbarella. Looks like someone's been abusing the Excessive Machine:


Anyway for your enjoyment here are the rest of the looks from day 1 at Cannes, including the arrivals for the premiere of "Up"