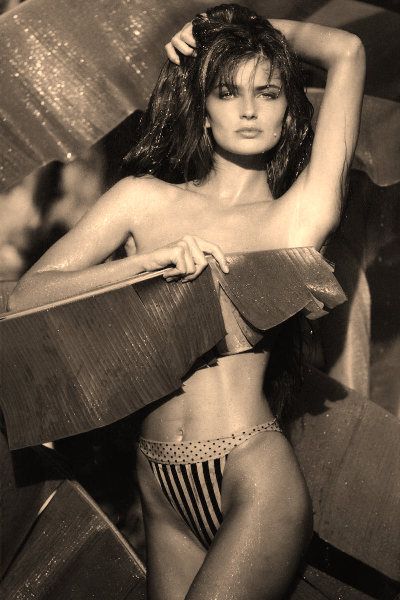 When it comes to fashion, two things are for certain: styles are guaranteed to recycle, and there will be catfights. Enter Paulina Porizkova who claims she was fired from "America's Next Top Model" due to what producers called an ego problem. In a new interview for Access Hollywood and "The Billy Bush Show," Paulina blabs to Billy about her dismissal as a judge from the show and how she thinks Tyra was in the wrong. "I must admit I was having a little bit of an issue with Tyra being late for every judging," she told Billy. "It's six hours later and I feel like I am being told my time is not as valuable as hers. They pointed out that I should shut up and be grateful for the job and that Tyra is really busy. I think that my little hissy fits about 'Well, we are all here on time. Why can't she (Tyra)?' didn't go over all that well," added Paulina, who replaced the previous judge, supermodel Twiggy."
When asked if there might have been an issue that she was the only other woman on the judging panel, Paulina said she didn't think that was the case, especially when it comes to Tyra. "I don't think that in Tyra's universe that's even a consideration. I don't think she cares," she said. "I'm not even sure she was aware that I existed way out there in Siberia, much like I am not sure she knew Twiggy existed."
Paulina also claims that Tyra basically refused to speak to her outside of panel. "I wouldn't know [what kind of person Tyra is] because all I know of her is literally when we are on set talking to each other in front of the cameras," the supermodel said. "That is the only time she would speak to me."
So what do you think readers? Is Ty-Ty in the wrong for firing Paulina (on her birthday no less), or is it justified because it's her show? And should Paulina be bad mouthing a fellow top model publicly? I mean, that is what they are always preaching on that show. Paulina don't preach!