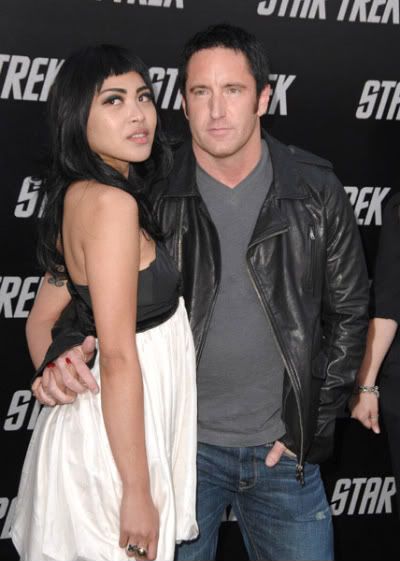 Bad news for all you Trent Teznor lovahs out there. The NIN singer is off the market and engaged to girlfriend Mariqueen Maandig. One of her bandmates posted a bulletin on the West Indian Girl official website yesterday congratulating the frontwoman on her recent betrothement.
"in case u havent heard the news, mariqueen got engaged. everyone in the west indian girl camp is super excited and happy for her. q's an awesome person, friend and bandmate and she couldnt be marrying a cooler guy. talk about analog and digital love - their kids might all have moogs for arms.
speaking of the future…this song title seems apropos - plus it's off the fragile which i still consider the best record released in 1999. it's actually one of the cds i would take with me on a deserted island..along with prince's 1999 and the clash's london calling …hmmm come to think of it those are all double cds…guess i should include our last double remix record to that list as well. shit…can't forget kruder and dorfmeister's the k&d sessions too - my choice for record of the year in 1998 btw"
The couple made their first public appearance together mere days ago at the LA premiere of Star Trek. Normally I'm a totaly cynic when it comes to these things, but Reznor and Maandig look like two little peas in a goth pod. Like Perry Farrell and Etty Lau, except in black leather.