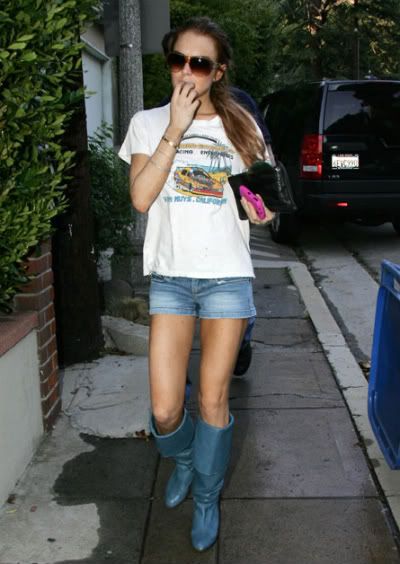 Over the past few years Lindsay Lohan has garnered a reputation for herself that is less than flattering. Case on point: remember last year when the Mean Girls star stole an $11,000 fur coat from a stranger at a birthday party? Well it seems the mini-Winona may have made a repeat performance. Turns out some jewelry that LiLo was going gaga for at a recent photoshoot has mysteriously come up missing. Holy Moly reports:
"Holy Moly can exclusively reveal that Lindsay Lohan is to be questioned by police in connection with the disappearance of £30,000 worth of jewellery from a magazine shoot. Lindsay was photographed in London for the forthcoming shoot and according to sources was bowled over by the rocks:
"She kept going on about the jewels asking if she could have them. We all thought she was joking!" The jewellers realised the £30k worth of bling was missing after the shoot and contacted the magazine, who denied any knowledge of their whereabouts.
Requests for information, or for the return of the swag, has been repeatedly put to Lindsay's representatives, but two weeks later both magazine and jewellers have yet to receive any form of response. This has left them with no alternative but to pass the case on to British police.
This isn't the first time Lindsay has been linked with stolen stuff. Louis Vuitton reportedly refuse to deal with her anymore after she repeatedly stole stuff from their shoots:
According to the New York Post:
"Louis Vuitton had sent over some samples for her to wear in the shoot. Lindsay kept shoving the clothes into her bag, and a stylist's assistant kept getting them out of the bag, only to have Lindsay keep trying to take them. She ended up walking off with a very expensive shirt and some other items - which screwed Louis Vuitton because they were set to go to Vogue, W and Harper's Bazaar for other shoots. They were furious and kept trying to get their clothes back, but . . . Lindsay walked out with them and never returned calls."
You have to love the sense of entitlement that comes with being in the public eye. Lindsay, Paris, all those bitches just think they deserve anything they want no matter if it belongs to someone else. I mean sheeet, if this were you or I, our asses would already be sculpting shanks out of empty toilet paper rolls with our new cellmate Tank. But you know blue collar criminals-the rules just don't apply to them.