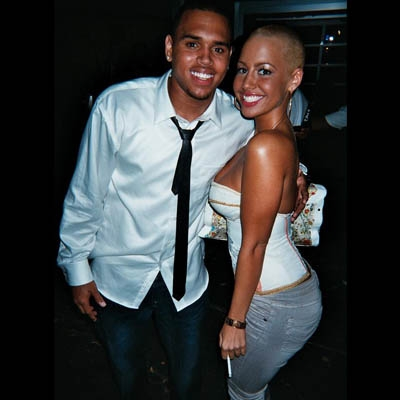 Hollywood is basically like one big, giant, marginally dressed high school with more money and less morals. So it should come as no surprise that after splitting with ex Rihanna, Chris Brown would cast his net into the shallow end of the dating pool and hook up with someone in his inner circle. Case in point, sources who attended Diddy's July 4th White Party claim that although Brown arrived with 18 year old Rihanna lookalike Teyana Taylor, the singer ended up swapping saliva with nont other than Amber Rose. That's right, Amber Rose. As in the girlfriend of Rihanna's close friend and mentor Kanye West.
Spies claim that in the later hours of the evening, Amber and Chris were spotted "nestled" (hate that word) on a couch making kissy faces at one another. "They were holding hands and making out in the shadows," said a witness. (In the shadows! How mysterious!) "She had her hand on his leg." This naturally pissed Teyana off because evidently she does not find it cool to catch your date making out with a bi-sexual chick who is supposed to be dating the KING OF CAPS and Unofficial Goodwill Ambassador to the Gays. "They were kissing on the dance floor in front of Teyana." the source continued. "But he and Amber left separately."
I tell you what, if this is true Amber Rose is a complete dumb dumb. You do not bite the hand that feeds you and you do not piss off your meal ticket! I don't care if Kanye West is a dick-he made her and not turning your back on your creator is the very first rule in the goldigger's handbook to handjobs in Hollywood. Honestly Amber, I am so disappointed.