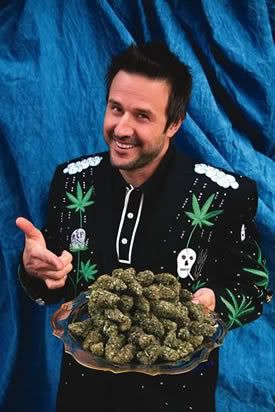 Remember when David Blaine spent 44 days hanging over the Thames in that tiny little box starving himself all for the art of the endurance? Yeah well now David Arquette has decided he wants to do basically the same thing, except he will eat and he'll only be in the box for eight hours at a time. Say it with me: pussy!
The 37 year old actor has announced that he will live in a Plexiglass box above the Madison Square Garden marquee on Tuesday and Wednesday in order to raise $250,000 for Feeding America, the nation's largest domestic hunger relief charity. He'll stay in the box each day for about eight hours, and a spokesperson said that he will eat during his two day stint. No word yet on what he plans on doing while he's in the box but I'm thinking it involves zig-zag rolling papers, lots and lots of Funions and asking people if they want his autograph. Donations for the charity will be collected at his location as well as on a Facebook page set up by candy corporation Mars Inc.
Now let's face it, if it wasn't for Courtney Cox Arquette I'm sure David would still be living in a box but not by choice. Therefore I do find it admirable that he wants to give back to people that would have probably been his alleymates in another life. However, if you're only going to be living in the damn box for two days the least you could do is go on a little hunger strike. I mean for Christ sake if Elizabeth Hurley can go 44 years without eating I'm thinking David could go a measly two days. I also think it's kind of some bullshit that they're hyping up that he's going to live in a box. Let's get something straight: he's not living in the box, he's visiting the box. His ass is only going to be staying in that thing for 8 hours each day and the last time I checked a day was 24 whole hours. Then again who am I to talk? What he's doing is better than what I'm doing which pretty much amounts to nothing. So bravo David! Setting out to raise a quarter of a million for charity is amazing and while I do poke fun of Mr. Arquette I admire his intentions tremendously.