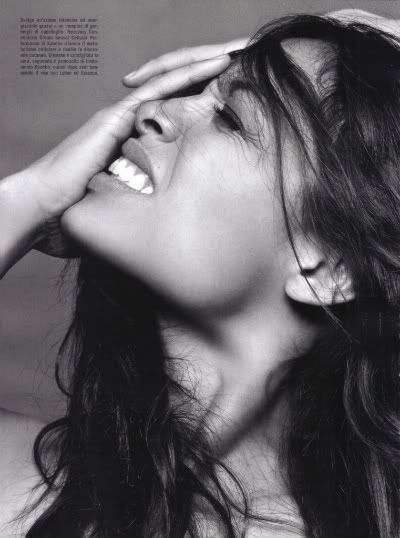 Ok so first things first: I love the Italian concept of beauty. It's raw and real and I could just nom nom nom it up with a great big spoon. There's minimal retouching and an overall complexity that I find positively intriguing. And it certainly doesn't hurt that the subject of this editorial happens to be one of the most expressive, vulnerable actors in Hollywood, the young and fabulous Rosario Dawson. You know I must say, while I'm not Rosario's biggest fan, I respect and admire both the personal and career choices she's made over the years. For lawd's sake the woman is only 30 and yet she has stared in over fourty three films-most of which were either box office or indie successes. And she's not typecast either. She's made a conscious decision to be a mixed bag actor, dabbling in everything from musicals to slapstick comedies to full on action flicks to everything in between. The power she has over her career and image is really inspirational, and is a shining example to women everywhere that given the right amount of drive, there isn't anything they can't do.
Anyway here's more of the classadocious Ms. Dawson in Vogue Beauty Italia. Bellissima. Freaking Bellissima.













And because I'm a nosy bitch, I must ask: Out of Rosario's more than extensive catalog of flicks, what is your favorite RD film?