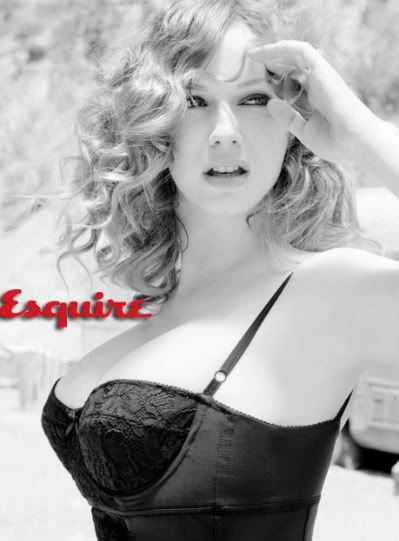 I really have only two things to say about these pictures of Christina Hendricks in the latest issue of Esquire: holy mackerel and good gotdayum. I mean honestly, the woman is freaking jaw dropping. Literally. My jaw dropped. She's like some fabulous alien from planet gorgeous. A Botticelli painting come to life. The very definition of the word "Woman". Which makes me ask myself, "Self, why don't women still look like this?" She's seriously enough to make a gay man turn straight-at least until he gets down to the lady regions and remembers oh, no. I do not like this. Not a fan at all.
Anyway, here's an excerpt from her interview, which was just too impossibly adorable not to share:
ESQ: Do you like to cook?

Christina Hendricks: I love to cook. I just got a deep fryer, and it's amazing. The first night we got it, we made homemade poppers. I mean, what's the best deep-fried thing ever? Cheese poppers.

ESQ: Do you drink while you cook? Watching Mad Men always makes me want to drink.

CH: I love cocktails. My specialty drink is a gimlet with a little egg white in it so it gets frothy. I really like rose water — sometimes I'll add it to champagne. I was at a bar recently and the manager came up to me and said, "We have a drink named after you!" The Joan Holloway. There was Campari in it. People are throwing these Mad Men — themed parties because, I think, it's an excuse to get dressed up and drink and smoke.

ESQ: Why do you think you got the part of the bossy secretary?

CH: Matt Weiner, the creator, had thought of Joan as pinched and tightly wound, but she's more of a sort of sexual character. I just went in and did the character as I had read her, which was bossy, brassy, everyone-listen-to-me. And then when wardrobe got involved, doing the pilot, I put on this dress, and all of the sudden I had a different walk than I normally had, and Matt turned to me and said, "That's Joan." I have my hair brought up a couple inches, and I have heels. I look like an Amazon.

ESQ: But you seem to embrace the fact that you're not this little waify nothing.

CH: This is the way I'm built, and I feel beautiful. It's funny, because I don't feel like I look that different from anybody. Everyone's always like, "You're so much smaller in person!"
*squeal* I love this woman sfm. Raven haired goddess beauty galore.

Cheap Esquire Subscription