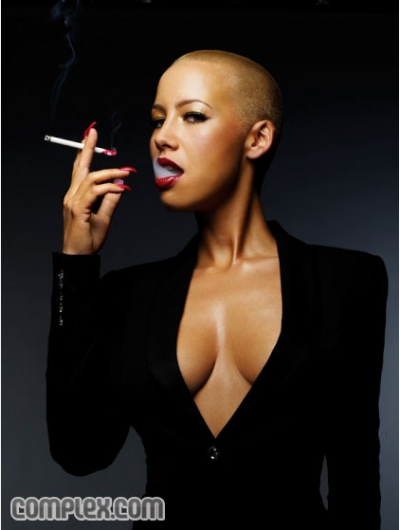 By now you guys should know that I am completely, utterly and totally enamoroud with the one and only, Amber Rose. And what do I love more than some brand new hella ferocious pictures of Robert Palmer's ideal video girl Amber Rose? Nothing. I love nothing more. Ok so I may actually love a few things a little bit more, but that doesn't make these pictures any less gorgeous. The on/off girlfriend of Unofficial Goodwill Ambassador to the Gays Kanye West is looking positively smokin' in the latest issue of Complex, channeling other dynamic divas of yesteryear such as Cleopatra, Marlene Deitrich and that lady from the mudflaps. Amber also gave an interview to the mag, spilling the beans on everything from her relationship with Kanye, those rumors about her sexual preference, and what she's up to these days. Here are a few excerpts:

Complex: Did you always have an eclectic style growing up?

Amber Rose: Yea, I always looked up to Slash from Guns N' Roses. I had every single poster of Slash in my room. It was crazy because I grew up in an all-black neighborhood and everybody I went to school with was black. I was the only biracial looking girl in my school, and Slash was biracial too, he was just a fucking rock star. I always wanted to play the guitar. I've tried, but other things came up.

Complex: What's the status of your career?

Amber Rose: Definitely more modeling, I want to change the face of modeling. I want young girls growing up to know that they can actually eat something, and be beautiful and be a model, that they can actually have a real women's body and do modeling. I want to get into acting. I want to pursue all avenues that I can.

Complex: There's constant chatter on the blogs about your sexual preference. Are you bisexual?

Amber Rose: Yeah, they label me a bisexual freak stripper that fucks Kanye on a daily basis. [Laughs.] You know: "Amber Rose, the fucking bisexual, dyke, freak, whatever the fuck." To answer that: I'm extremely open with my sexuality. I can be in love with a woman, I can be in love with a man. I'm not into bestiality [laughs] but as far as humans go, I definitely find beauty in everybody, whether they're heavy-set, super-skinny, if they're white, black, Indian, Asian, Spanish. I can see beauty in anybody. I'm not into threesomes or orgies and shit like that. If I see a women and I think she's beautiful and I like her, and she likes me back we can definitely try to be in a relationship together.

Complex: There's going to be a time when people are going to ask you about whether you and Kanye are gonna take the relationship to the next level or if it's just a fling.

Amber Rose: Because we're in a public eye, everybody wants to know what goes on, but we're human beings. We have arguments—people have arguments, mothers and daughters have arguments, it's only natural. Kanye is amazing, he's a great person, he treats me wonderful, we have a great time together. I genuinely care for him.

Complex: How do you respond to people saying this whole Kanye situation is a publicity stunt?

Amber Rose: Well, my intentions when I met Kanye was to do his video, keep it very professional and we really started to like each other. It just so happened that he started liking me and I started liking him. It's not a publicity stunt, it's just human beings, man. I love Kanye as a person, he's a great person, he's super-talented. I love him for a lot of different reasons.














Source