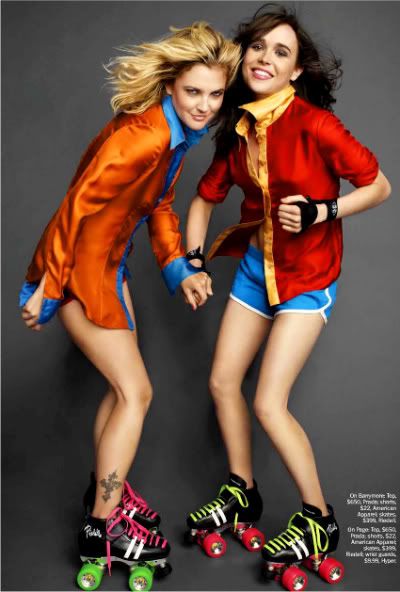 After posting about the hot mess that is Lily Allen, I thought you and I both could use a little burst of fresh air in the form of Drew Barrymore and Ellen Page in Marie Claire magazine. The pair seem to have gotten along famously since shooting their new flick "Whip It". In fact, it seems that Drew has taken Ellen under her wing. Passing the proverbial free spirit torch if you will. I must ask though, has anyone noticed how much weight Ellen Page has lost? She's always been thin but it seems like over the past few months she has gotten drastically tiny. Although I don't see Ellen as being the type of woman to be concerned about being fat, some people who exhibit destructive eating patterns do so to obtain some form of control over their lives. With her hectic schedule that could very well be a possibility, though I hope I am wrong.
In other Drew news, girlfriend done got her hair did and uh...well...it's different....


Truthfully I'm not in love with that type of dye job but I have to hand it to Drew-she does what she wants, when she wants and doesn't give an eff what you or me or anyone else thinks. Besides, my mantra with hair has always been "Why Not??" It's hair. No matter what you do to it, it will almost always grow back. So why not take a chance? You can always change it! On a positive note I do like her outfit. Very Drew circa 1993. My favorite decade of Drew!
Anyway here is the editorial of Drew and Ellen in Marie Claire as well as some more pics of Drew and her new 'do. Enjoy!














Drew's New Do













Cheap Marie Claire Subscription