Originally I wasn't going to post about last night's Amfar event at Milan Fashion Week. I was worried you guys might find it in poor taste to be discussing the hotness of an outfit at a charity event. However, the millisecond I saw a picture of my girl Anna Piaggi, well, I knew it was all gravy. Besides, if these people did not want us to notice their clothes they would not bother dressing so damn fly. Or ridiculous as the case may be with DSquareds Dan and Dean Caten. In case you've ever wondered what those twins whose mother insisted upon dressing them in matching sailor's uniforms look like all grown up, here it is:


Talk about double your displeasure and doubling your fug. Those two look like two walking Children of the Pepto/human hybrids. And then there was the normally stylish Dita Von Teese who looked equally as disappointing in pink:


I don't know what she was thinking putting on this taffetta Pretty in Puke prom dress nightmare, but my best guess is that she wasn't. She wasn't thinking at all.
On a positive note, how effing cute is Delfina Delettrez Fendi's waist cincher?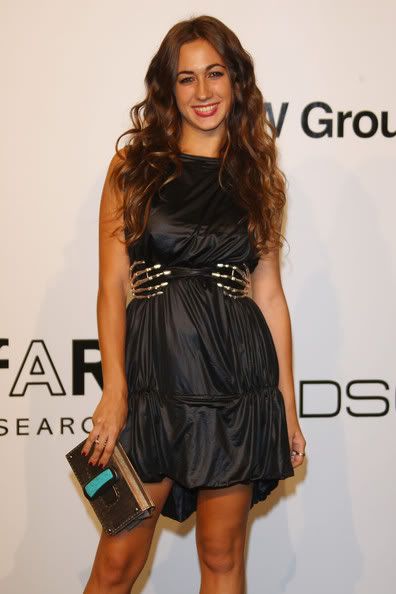 Delfina as desined similar skeleton hand bracelts (which are sold exclusively at Luisaviaroma), but this is her first go at belts. I have to say, I am head over heels for her designs, but it's highly unlikely that I'll ever be able to shell out the cool $30,000+ her designs normally retail for. But hey, a girl can dream right?
Anyway here are some more looks from last night's event: