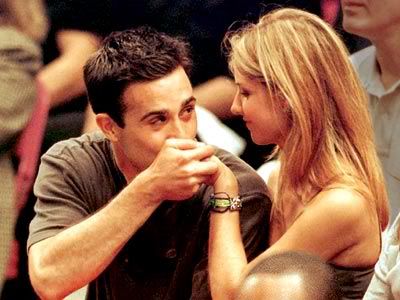 After a grueling 72 month pregnancy (didn't it seem that long?!?) Sarah Michelle Gellar has given birth to a boucing baby girl. Charlotte Grace Prinze made her way into this cruel, cruel world on Saturday. She is the first child for Gellar and her husband Freddie Prinze Jr., who have been married since 2002. Before announcing her pregnancy in April, Gellar told "Access Hollywood" why she felt it was important to wait for the right time to start a family. "When we do have children, my husband and I will have such a strong foundation because we've given our relationship time to grow," she said. "I try to go into everything with an open mind, but it's much more than I thought it would be. The partnership grows to such a different level. And all my life, it was just my mom and me, us against the world; so to let someone else in and to have another partner was hard for me. Now he's my partner, my best friend, and my husband."
I'm sorry, you must excuse me. I do not know how to react to someone-particularly from Hollywood-taking such an unselfish, mature approach to parenting. I mean, waiting until you are fully ready instead of using your fetus as a PR stunt to gain publicity? What is the world coming to?
Anyway congrats to the happy couple! I am sure this new addition will only bring more excitement and joy to their lives.