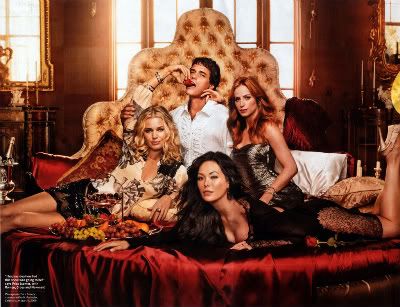 I'm not going to mince words with you: television this summer majorly sucked. Between all the sad, rehearsed "reality" shows and reruns of the same ol, I found myself religiously throwing old episodes of Oz and Dexter in my Netflix queque simply to get a fix of some good old fashioned scripted drama. Thankfully the fall lineup has already kicked off and brought us some new, interresting series with a brand new batch of fun-starting with the muched hyped comedy "Glee". In case you did not catch last night's episode, this clip is all you need to know about the show (fast forward to the 2:30 mark for sheer awesomeness. And also, check out number 55 with his bad self! He's got some moves!):

Then at 10 came the premiere of the new ABC series Eastwick. At first I was reluctant to watch seeing as how it was a spinoff from the book and movies "The Witches of Eastwick". We all know how remakes go and usually they can never match up to the original. However I must say I was pleasantly surprised. This show was cute, engaging, and had a really great cast. It's sprinkled with bright, "Pushing Daisies"-esq colors and boasts an amazingly beautiful New England backdrop. I would definitely recommend this show which means one thing: It's sure to get cancelled. ABC is infamous for creating really great programs which tragically get cut short to make room for some shitty new reality dating show. They'd rather churn out a crappy show it took $5 to produce than shell out the money for a good drama. I hope that Eastick does not suffer the sme fate as it's predecessors, but knowing the track record for their network I don't have too much faith.
Speaking of reality television, last week was the premiere of Survivor: Samoa, and let me just tell you, some reality shows may not offer substance or intrigue but this show easily offers both. Although they are in their 6,998,942nd season, Probst and crew prove why they have continued to pull in audiences season after season. Survivor is the originator. The grandaddy of reality television. Nobody can even come close to their villans. And if you don't believe me, meet Russell. He enjoys long walks on the beach, lying about being a Hurricane Katrina survivor, and working overtime for Satan. He's got some hellish hours, but the pension is good and he gets to burn all the socks he wants and call pretty girls dumb as demonstrated in these clips.


In case you care, Survivor comes on tonight at 8 on CBS. Also on television this evening is Project Runway which comes on at 10 on Lifetime: the 'Men are terrible and will hurt you because this is Lifetime' nework. This is probably the part where I could say anything I wanted about the new season because no one is either watching or cares. In other words, PR has officially jumped the shark and is no longer worth viewing unless your name is Seal and you have to watch it because if you don't your wife will not speak with you for three days.
Anyway what are your thoughts on the shows? Is anyone watching any of these?