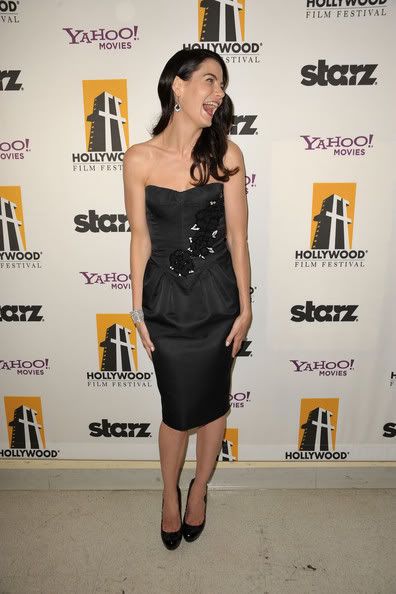 Would you like to know who the worst dressed at last night's 13th Annual Hollywood Awards Gala Ceremony was? Everyone. Ok, almost everyone was the worst dressed. I'm not even just saying that to be mean. I really, truly mean it. Between the ill fitting frocks, space helmet hairdos and wrinkled clothing, nearly all of the attendees looked like they had spent the entire day getting stoned in a bouncy ball house. The hair is askew, the clothes are a wreck and let's face it, most of these people probably are stoned. I mean for Christ's sake, does this look like the face of a sober man to you?


That's what I thought. And speaking of faces, that's a lovely shade of lipstick the Toxic Avenger is wearing.


Yes I know that's mean but what do you expect? Poor Anna-Lynne McCord is a shade of radioactive that doesn't even exist in nature. It's like a real life version of Nip/Tuck's Kimber Henry, except her appearance isn't meant to be ironic or satyrical. You know who was looking good though? Sandra Bullock.


Mighty fine, indeed! I would also be remiss if I did not mention Charlize Theron who was easily the best dressed of the evening and also so alienesque gorgeous that it should be a crime.


And whose got the best hair and makeup?


That's right, Carey Mulligan. You do.


No need to give me the stank eye Taraji P. Henson. You came in a close second.
Anyway let's take a look at some more beautiful disasters from last's nights event. I've got three words for you: lots of black. It's like they planned it or something. Except for Julianne Moore and Diablo Cody who probably did not get a chance to check their voicemails.
Honorable Mention for Best Dressed: Michelle Monaghan (I think I just fell in love with her)


Worst Dressed: Diane Kruger


Also Best Hair: My new girlfriend Michelle Monaghan


Worst Hair: Hillary Swank


Biggest Bitchfaces: TIE! Shannen Dougherty and her boyfriend (I mean honestly are they at a party or did someone just punch their puppy?!? Such misery!!!


Everyone Else: