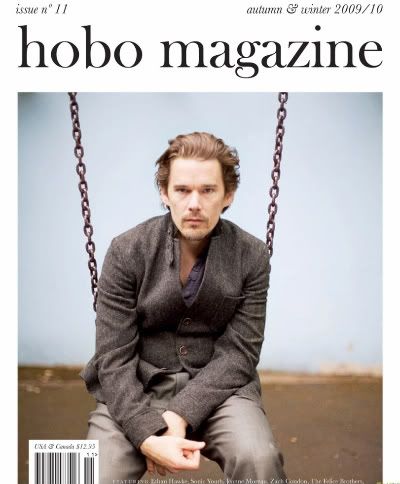 If you are not native to this land, perhaps you might have some trouble accurately decoding the complex machine that is the English language. In which case allow me to assist you. Today we will be discussing the word "Irony". Now again, if English isn't your first language you may be scratching your head and wondering what that word could mean. However with this simple and brief tutorial you'll be educated in no time. So let's begin:
Here we have my favorite actor of all time, Ethan Hawke. Now back in the day Ethan Hawke used to be one dreamy ass motherfucker. (That's right, no sugarcoating from me) Sure he was a little scruffy and his hair looked like it was combed in fish grease and he most likely smelled of three day old cheese, Marlboro reds and Bud Light but he was so hot we were willing to overlook his shortcomings. However once Ethan hit his mid 30's, things started to go downhill. He started bathing infrequently and brushing his teeth even less. Slowly the man who used to make panties drop with his poet lore ways became the dude in the bar whose rendition of "She's My Woman" would sound mighty fine if only he did not have to stop and cough up a lung every five minutes. Yes, Father Time has been about as good to Ethan as he has been to himself. Which is why when I saw Ethan Hawke, the million dollar hobo himself, on the cover of Hobo Magazine, I just knew I had to share. Because if there's one thing more ironic than a millionaire actor who owns an island in Nova Scotia looking, acting, and dressing like a Hobo, it's said actor posing for the cover of a magazine of the same name.
This concludes today's lesson on Irony. Stay tuned tomorrow when we use the word to describe Paris Hilton teaching a abstinence class.