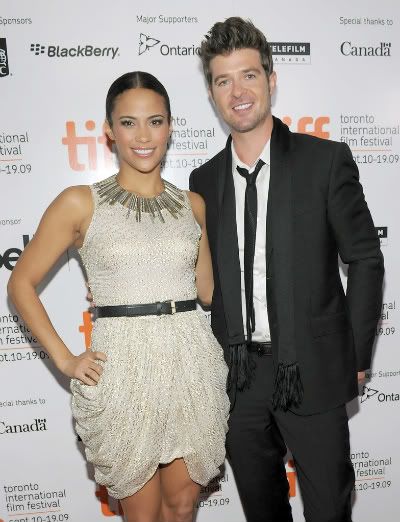 Ruh-row. The Jolie-Pitt kids better watch their backs, because they are definitely about to have some serious competition in the cutest kids category. The most gorgeous couple on Earth, Paula Patton, 33, and Robin Thicke, 32, have just announced that they are going to be first time parents. So why is this news? Because I love this couple. Love them. Not because they are so pretty and talented (which of course they are) but because they are childhood sweethearts who have been together since they were fourteeen. 14! How freaking adorable is that? In the normal world marrying your high school sweetheart is unbelievable enough, but managing to make it work for almost 20 years in Hollywood?!? Completely unheard of. Especially for people as young and hot as they are.
When asked by US Weekly how they make it work, Robin answered by saying "She could make a marriage work with a chair. She's an incredible woman, and she's very beautiful, so I'm just lucky to be with her." In the past the couple have denied pregnancy rumors insinuating that they are just kids themselves and in no way ready to take on the responsibility of parent. However recently the pair have hinted that they have been trying for a little one.
Jebbers I really respect both these guys. They are responsible and classy and just all around good role models for kids and adults. In fact, most marrieds could take a lesson from these two. Perhaps if this whole acting and singing gig doesn't work out they can have a future in conducting couple's therapy sessions?
In the meantime I've thrown in Robin's steamy video for "Lost Without You" which features he and Paula. I don't normally like R&B (at all), but this song is an exception. It's just so catchy! And if you have not yet done so, you must see Paula in the musical "Idlewild". That film is incredible and has some of the best costumes ever on screen. Trust me. I'm a doctor. Ok no I'm not, but I did always want to say that.