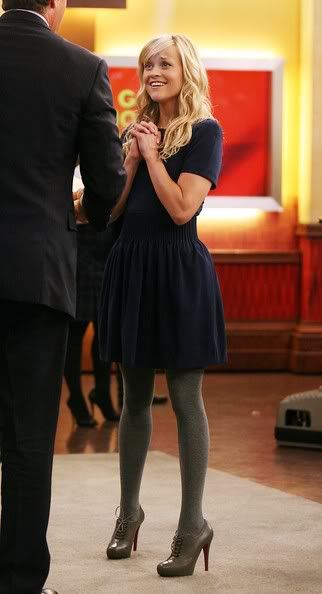 Those shoes! That stockings! Those shoes! Reese Witherspoon has never been one to be right on trend but she certainly was yesterday when she showed up at Good Morning America to promote her new perfume for Avon, "In Bloom". The actress, who is usually known for her vintage inspired, throw-back style was sporting some great gray textured tights and Louboutin Mamanouk Booties underneath a comfy navy sweater dress. Now when I say that Reese is rarely in line with the trends I mean that in the most complimentary way possible. Her mantra seems to be stick with what's timeless rather than with what's en vogue at the moment. Therefore odds are if you see Reese wearing it-regardless of whether it's trendy-it's a safe bet it'll look equally as stylish 10, 20, or 30 years from now. Despite her young age the actress really has a sense of class and dignity. I definitely see her as a Grace Kelly/blonde Hepburn sort of way. Future generations can look back on her red carpet events and get inspired by a real style icon.
On a seperate note, I know it's so silly but "Sweet Home Alabama" is one of my favorite films ever. It reminds me so much of my husband and I. No matter how crappy of a mood I'm in that film always puts a smile on my face. Just a little tip from me to you for the next time you're feeling bummed out.
And just in case you're looking to replicate this outfit, you can check out some similar dresses here or here or you could do what I usually do and scour ebay or your local thrift store. You can almost always find a dress similar to this one for a couple of bucks. That leaves you with more money left to splurge on other things like shoes and bubblegum and records. Or whatever the kids are spending their nickels on these days.