Be still mah stars! If that dress Eva Mendes is wearing isn't the most sparkly, lovely, delicious thing I have seen in a long time! The actress attended the premiere of her new flick, "Bad Lieutenant" last night in Hollywood looking like a trillion bucks. I gotta tell you, Eva is probably one of my top five favorite fashionistas of all time. Although her style is not normally what I would gravitate towards it really suits her figure, skin tone and personality. In fact I know this might be a bold statement, but I definitely see her as our generation's Sophia Loren. If you don't believe me, allow me to introduce Exhibit A: (click smaller pic for larger version)











And Exhibit B:













Exhibit C:













Exhibit D:













Exhibit E:













I could continue, but you get my drift. Eva is practically Sophia incarnate! Her successor, if you will. Anyway back to the premiere. Aside from Eva three suprise guests poppoed up unexpectedly on the red carpet. First there was Jennifer Coolidge who I think we all know and love: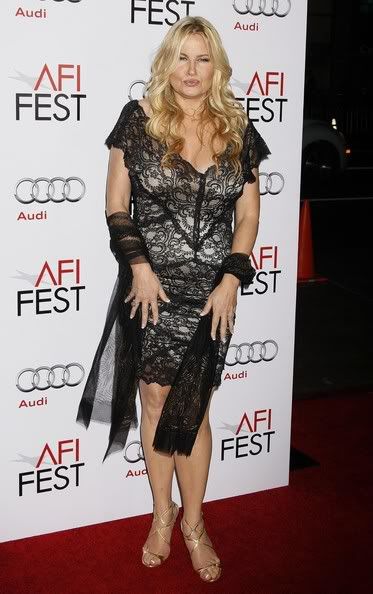 As well as Melanie Brown aka Scary Spice who showed up wearing a shirt as a dress. And not even a long shirt:


I don't know about you guys, but this is a trend I really wish would kick the bucket. Only me and the Olsens can get away with wearing a shirt as a dress because we are not full grown sized people. We have to buy shirts as dresses. Unless of course we want to look like a member of the Duggar clan. But I digress.
Finally the last guest was a bug shocker. Someone we haven't seen 'round these parts since she was made Slacker Chic of the Week a while back. That's right, it's my sister from another mister, Fairuza Balk:


She is just my little goth princess. I tell you, back when I was in high school and The Craft was popular I was told that I looked just like this chick every single day. I took it as a compliment, because in my eyes Fairuza's a majorly dope girl.
Anyway here's more Eva at her premiere looking fly as hell in that dress!