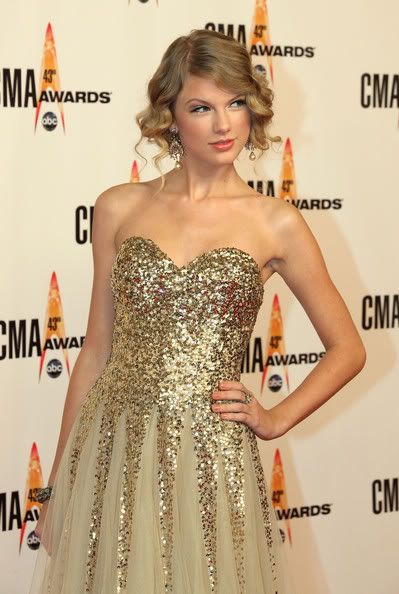 I don't know a damn thing about country, and I'm not even going to pretend I do. But what I do know is style. And there was no shortage of it last night at the 44th Annual Country Music Awards. Of course the big winner of the evening, both stylewise and awardwise was 19 year old Taylor Swift who broke records by becoming the youngest artist in history to win Entertainer of the Year. Not only that, but Swift became the first solo female to win the award in a decade, taking the torch from 1999's Shania Twain. In total Taylor took home four awards including Best Female Vocalist, Album of the Year, and Video of the Year.
But that's not all. There's one more fun fact I'd like to share with you before heading straight into the Best and Worst Dressed. Last night, Darius Rucker (aka the singer from Hootie and the Blowfish) became the first African American to win New Artist of the Year at the CMAs, as well as the first black artist since Charley Pride to win a major individual award. I don't know about you, but I think it is so, so freaking cool to see people like Taylor and Darius breaking boundaries. Ten years ago country music had a sort of stigma that repelled people like me. I hate to say it, but I used to associate country music with rednecky biggots and other negative things. However in the past few years country has become more experimental, thus widening it's appeal to the masses. Taylor makes country cool for fashionistas, young women and girls while Darrius makes it accessible for people like me, who love the blues and rock and roll, as well as of course being an inspiration to other African Americans out there. In fact, I remember (last story I promise) watching Terrance Howard on some PBS show a few years ago and the host was grilling him on his favorite type of music. I recall Terrance saying that he was a big fan of country, that he grew up listening to it with his mother and grandmother. The host, an old crotchety stereotypic effer, seemed baffled by this admission, blurting out "but you're black!" UGh. If that wasn't a big ol slap in the face that our society wasn't quite as evolved as I had originally hoped. Still, it made me realize that I was being prejudice against country music the same way that host was making sweeping assumptions about Terrence Howard because he was black. That was the day I met irony and realized that judging country music without giving it a chance was just as bad as the country listeners dissing rap or punk because they don't like what they see on tv. Or some other hands across America bullshit lol.
Anyway congrats to Taylor and Darius for being kick ass mold breakers! Let's continue the praise by tumbling right into the best and worst dressed of the evening.
Best Dressed: Taylor Swift. This dress is so beautiful it's disgusting.


Worst Dressed: Kelli Pickler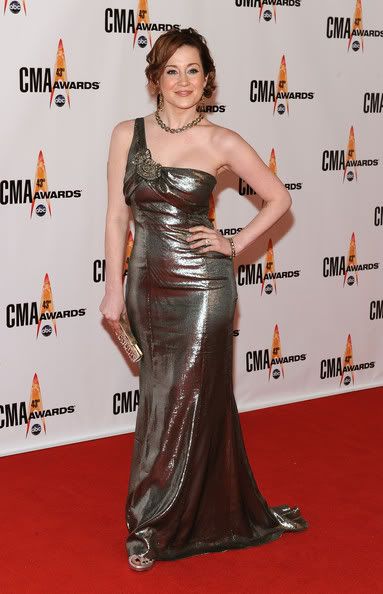 Best Use of Color: Diana DeGarmo


Best Bag: This clutch!


Best Embelishment: Martina McBride


Best Dressed Male: Kid Rock (No I'm not kidding. I actually like this)


Worst Dressed Male: Rory Feek


Best Hair and Makeup: Carrie Underwood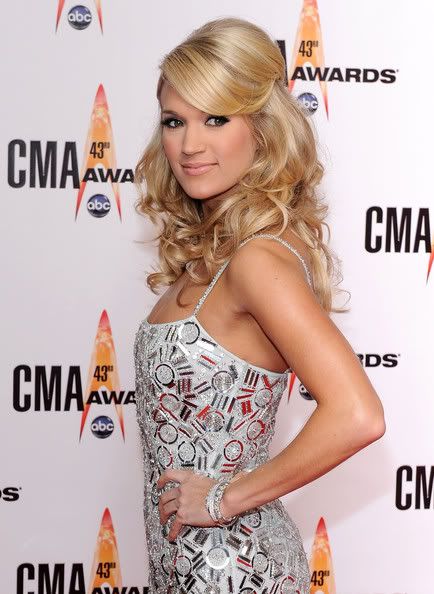 Biggest "Imma Who-er Who is Gonna Steal Your Man" Face: LeAnn Rimes


Cutest Couple: Kenny Alphin & Christie Carothers-Aren't they fun?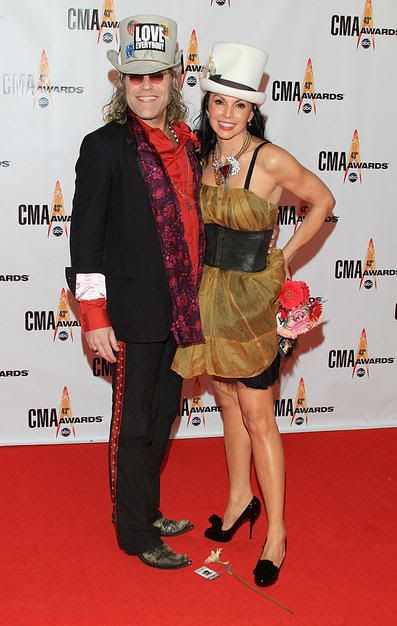 Creepiest: Is this a little girl or a grown woman? For the life of me I can't tell! Ok so I can tell that it is a child, but what child dresses like this? She looks like she's going to at a cocktail party for her cheating husband's law firm.


The Rest













Taylor Swift













Carrie Underwood