Ah Beth Ditto! My little ray of clouds. My rain on a sunshiny day. The pee in my Cheerios. What? No, I don't mean that as an insult. That's just the grumpy girl's way of saying "I find you to be quite delightful and if I had a heart it would warm for you." Like GaGa, Beth is one of the few chicks that 1.) Try to keep both you and themselves creatively stimulated and 2.) While they do want you to like them and the swagger they were born with, if you don't like them you can pretty much eff off and go to h-e-double-hockey-sticks. They're doing their own thing and I loooooove that. What I find particularly interresting about Beth is how her style has evolved so dramatically over the years. During her early days on the scene she favored...well...this


Now, I know it may be hyprocritical, but I do not judge punk rock girls for stomping on stage in their underwear. After all, I am the same girl that began her sophmore year in a new school with a giant boot print stamped on her face from getting kicked in the head in the mosh pit during a Korn show at the 9:30 Club in D.C. Punk rock girls can get away with doing things regular girls can't. Like not wearing pants or spitting. However, even the most hardcore of us know that past a certain age it's just not that cute anymore. You gotta evolve. You gotta mature, and that's just what Beth does. Her style is just as eclectic as it use to be, she just chooses better sillouettes. And instead of flashing her clam all the time, she expresses her larger than life personality with funky prints, like this brick house inspired mini she wore to the Christmas illuminations launch of BHV at Bazar de l'Hotel de Ville in Paris, France yesterday. I know almost everyone on the blogs are saying that this dress is ugly, unflattering and unstylish, but to those people I say, You are ugly, unflattering and unstylish. So lay off my girl. Not all of us are a bunch of boring ass sheep, eager to follow the herd even if it means falling off a cliff. Besides, Beth is a role model for the big girls. She shows them that being plus sized does not mean you have to hide your stuff behind black on black on black. Besides, it's not like black is all that slimming. You can only hide so much. It's not like if you put it on the world is going to think you have a body like Elle MacPherson.
On a seperate note, Jean-Charles de Castelbajac (pictured with Beth above) better send GaGa the biggest effing fruitbasket he can possibly find for Christmas. Ever since she started wearing his clothes the designer has been absolutely everywhere. If he starts becoming the next Christian Audigier, I think I might be sick. There's only room enough for one plastic, orange man in this world and his name is Brooke Hogan. Zing!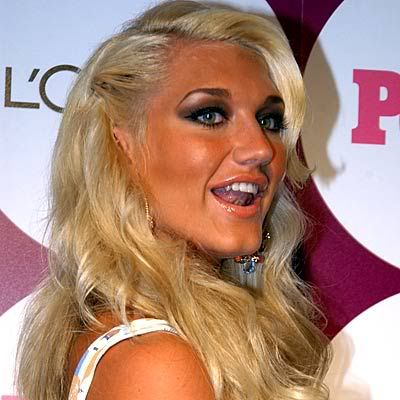 Just kidding I love Brooke, but she does look a little dudlicious in that picture. Agent Orange!