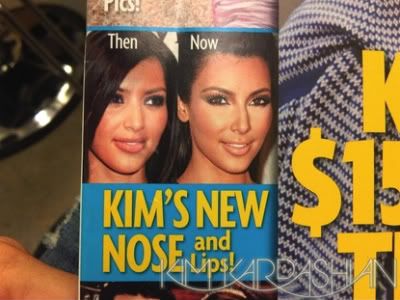 Kim Kardashian took to her blog yesterday to put Star Magazine on blast for claiming that she has had plastic surgery. The model actress woman Nobel Peace Prize Recipient Kardashian blogged this little gem in response to their claims:
------
"Star Magazine is saying I had plastic surgery to make my nose and lips smaller! Why would someone want smaller lips?! LOL

In the first photo I am about 15 lbs heavier than the second photo! Your face always looks different when you lose weight, plus with the contouring on my nose it gives the illusion of a thinner nose. I actually think my nose looks smaller in the first pic than it does in the second. It's ridiculous... it's all about the makeup and the angle from which the photo was taken!

It's no secret I contour my nose now to make the bump go away! I guess it's a compliment to my makeup artist that he does such a good job contouring my nose that it appears smaller. But hey, Star mag thinks it looks smaller... yay! My dream come true, hahaha!

Stories like this are so funny! I love that there's a Dr who I've never even met giving his 'professional' opinion on my face!"
----
Yeah, about that. Let me just introduce exhibit A for consideration, shall I? Kim Kardashian Back in the day....


And KimmyK just a few weeks ago...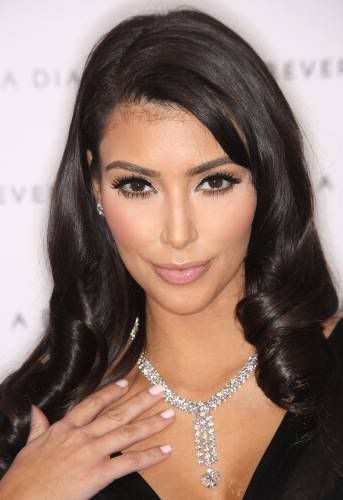 Yeah, you're right, Kim. You didn't have any plastic surgery. You look as natural as acrylonitrile rubber. In other words, you are man made, biatch. Nothing Mother Naturey about your facial situation. For God's sake, this isn't 1893, ok? We've got this amazing, magical new technological advancement called PHOTOGRAPHS that document us at various stages in our lives. If you have working eyeballs ANYONE can tell that Kim is a liar, liar pants on fire. Why do celebs bother with the fibs? Do they think everyone is as airheaded and dillusional as they are? It's like when Mariah Carey insists upon being photoshopped to look like she weighs 97 lbs. You're not fooling anyone but yourself.
Also, is it just me or is anyone else sick of this whole de-ethnicization of society? (Or, you know, another word for covering your God-given features in order to look like an a freakin' World of Warcraft elfen avatar? Unless you are a villain in a Stan Lee graphic novel, your cheekbones probably shouldn't be on the back of your head. I'm just sayin'. There's a little bit of this going on:


On the bright side, if she attends a couple of acting classes perhaps Tim Burton will cast her in his next project. What am I saying? Tim Burton would probably rather jump in a vat of boiling acid than to have KimmyK ruin one of his masterpieces.