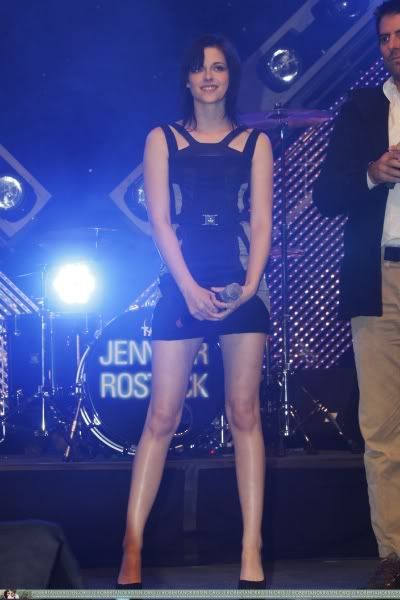 Dayum! Talk about some sticks and stems! Who knew Kristen Stewart had legs for days? Surely not I but I will tell you, Kristen is slowly inching her way into the coal-like apparatus known as my heart. Ever since she took on the role as Joan Jett in the upcoming flick "The Runaways", Kristen's style has really evolved from t-shirts and jeans to a graduated, grown up rock and roll flavor. I love seeing what she's going to wear next because it's always cool, always a little bit edgy, and most importantly, always looks comfortable!
Anyway, here's some pics of Kristen along with maybe boyfriend Robert Pattinson in Munich Germany experiencing this for the twentyseven millionth time in three weeks:


At this point I'm suprised their eardrums have not bled out yet. Can you even imagine having to smile through that insanity on a daily basis? There's nothing more frightening than a hormonal teenage girl. Trust me. I should know. At one point in time I was one. And it wasn't a pretty scenario for anyone involved.