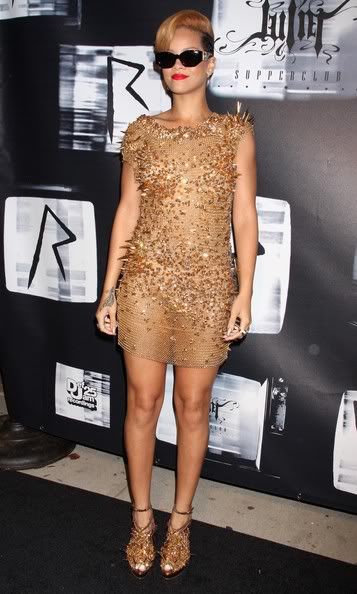 I think it's safe to say at this point, you guys know how I feel about Rihanna. She's always pushing the boundaries of music and fashion and I adore her for that. Yesterday the singer stayed true to form and did not disappoint in a stunning gold spiked dress by The Blondes for her "Rated R" release party at NYC's Supper Club. And those matching Louboutins-scrumptious!
Sadly it seems, despite her relentless gigs on the The Early Show, the AMAs and your livingroom (coming soon), the buzz is that RiRi's latest record is tanking hard. According to Billboard, Rihanna's "Rated R" is on course to sell just 162,000 copies in its first week on sale. The news comes in the midst of her label okaying the LP being sold for a paltry $3.99, eventually lowering the price to a shocking $0.99 in its opening week. (Seriously, you can download it now on Amazon for $3.99. Considering that is less than those Three Dog Night cassette tapes they sell at gas stations, I'd say you can't go wrong) Whether Rihanna' lagging sales it's due to her music, her style or Chris Browngate '09 has yet to be seen. But here's hoping she figures out the missing ingredient and fixes it STAT.
On a seperate note, I bet Rihanna tastes just like glitter mixed with rock and roll.