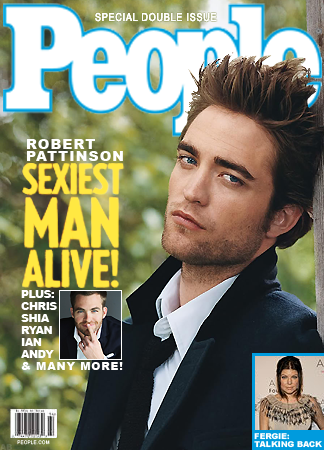 Soooo, Robert Pattinson aka Jawline aka Angles McGee has been named People's Sexiest Man Alive. Suprise, suprise! As if anyone didn't see that one coming. Now I'm not saying I disagree with the mag's choice, but I will say if they thought for one cotton picking minute that anyone on planets Earth, Mars, Jupiter OR Saturn did not expect them to choose Edward Cullen as the hottest dude in our solar system, then they are about as dillusional as this chick:


Oh Nutty Madam! Didn't your mother teach you that if you make that face for too long it will probably get stuck like that? I'm also getting a big kick at how desperate some fans are to find out New Moon spoilers. These chicks are busting blood vessels trying to figure out what will transpire between Kristen Stewart, long haired child boy/man body, and Jawline and it's like, I have a solution for you: read the book! You can probably find it at this thing called a library. It's a big building that holds books. You know, those paper thingies that people back in the day used to play with before the invention of twitter, PS3 and Wii. Googlemap that shit and find one nearest you!
Anyway, in honor of how absofuckingnotly shocking Jawline being named the Sexiest Man is, here are a list of things that are equally as suprising as him being named the hottest dude to ever seem like a complicated individual to pre-pubescent teenage girls. Again, I'm not saying Jawline isn't fine as a mofo. I'm just saying I liked this look better ten years ago, when it was called the Jordan Catalano:
Things That Are More Suprising Than Robert Pattinson Being Named People's Sexiest Man Alive:
-We breath air
-John is a name
-You are alive
-I am too!
-If you are reading this, you can read.
-"R" is a letter
-Dog is God backwards
-You will blink today
-Blue is a color
-At one time, you were a fetus
-The roadside assistence guy I have been waiting for the past three FOUR hours that was supposed to get here two three hours ago is poor at time management
-Your body is equipt with an aortic valve
-Sea creatures cannot drive thru a McDonald's To-Go window
-Bill Maher is an asshole
-Apples are for eating, not for driving
-You should not exfoliate with burning charcoal
-You see with your eyeballs
-Marilyn Monroe was blonde
-Marilyn Monroe is no longer living
-Marilyn Monroe is not a a piece of furniture
-Neither is fire
-Or ice
-Or thoughts
-Water is wet
-Adrienne Grenier is a terrible actor
-So is Madonna
-And Vin Diesel
-And Ben Affleck
-And about 93% of Hollywood
-Not including Meryll Streep
-"Psycho Killer" by Talking Heads is one of the best songs ever
-Fingernails are on your fingers
-Toenails are on your toes
-Towtruck companies are unreliable, hence the free time I had to create this list.